Father's Day is June 21st, so we thought we would present some books dad's may like.  The first selection of books below focuses on books we think will be favorable to those of the dad persuasion. The second half of the post highlights two interesting books that are fun gifts for dads with younger kids.
Books Dads Love
To find out what books fathers like, we did some grassroots research by asking Alibris employees about their dads' favorite books. Partly we were thinking we may get a lot of smart reads from dad's point of view, but partly we were thinking, hey, you should call your dad more often. He misses the sound of your voice but he's too proud to say so. Maybe ask him about his favorite book.
The Hunt for Red October
by Tom Clancy
The first one in was The Hunt For Red October by Tom Clancy.  This is one time where the movie may be as good as the book.  This is the runaway best seller that launched Tom Clancy's career and well worth reading.  The Russian submarine "Red October" is missing and everyone wants it.  It's a great thriller and if you dad has not read it would make a great gift.  If you Dad does not read buy the movie.
Floaters
by Joseph Wambaugh
Floaters is a book by Joseph Wambaugh, who may be better known for his book The Onionfield.  This book is a funnier crime tale taking place against the backdrop of the America's Cup.  If your Dad likes excitement and sailing this book may just be for him as well.
Cloyne Court
by Dodie Katague
Cloyne Court by Dodie Katague is a coming of age story that takes place at UC Berkeley's famous co-ed dorm Cloyne Court.  This is a book that will remind your Father of his own college days and all the craziness and free life style of those younger days.  This memoir takes place in the 1970s right after women moved into the real Animal House.
One Up on Wall Street
by Peter Lynch
We change our tone a bit for this next book which is certainly not fiction.  One Up On Wall Street by Peter Lynch is a must have for anyone interested in the stock market.  It's wisdom is as valuable today as the day it was first published.  Peter Lynch was one of the best fund managers and he believed that the every day dad could pick winning stocks with the best of them.  If your dad has an interest in investing make sure this book is in his portfolio.
 New Books for Dads with Kids
If you're seeking a book that can bring dads and kids closer together, we have two interesting selections to share with you today.
Build It with Dad
by A.J. Hamler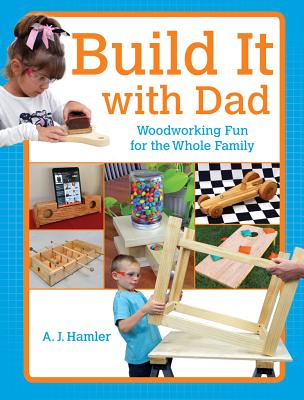 This spring Popular Woodworking magazine released Build It with Dad, a 146-page book that shows you how to build some amazing projects, including a Foosball table, a trebuchet, a candy dispenser, a train whistle, and even a passive speaker for your mp3 player. There are 22 projects in all, as well as safety tips and general woodworking advice (e.g. choosing the right wood).
I feel like some DIY books have an impersonal voice, as if you're reading the operating manual for a new gadget. That's why I love that author AJ Hamler is a real presence here, telling stories about projects he built with his own daughter and describing why he made certain design decisions. This is a high-quality product, filled with color images like the charming one above. Hamler's attention to detail shows that he's really built these projects; and he strives to give you the information you need to get it right. Some parents might be scared away by the idea of their cutie pies holding a sharp object, but for the free range parents who love to build, this book is a gold mine of rainy-day activities.
Dad's Book of Awesome Recipes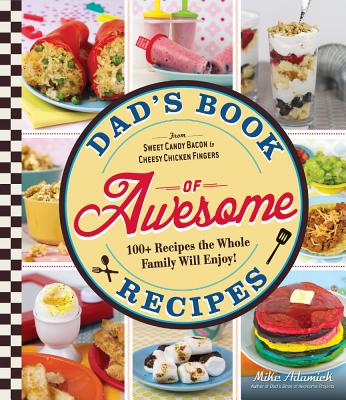 The full title of the next book is Dad's Book of Awesome Recipes: From Sweet Candy Bacon to Cheesy Chicken Fingers. 100+ Recipes the Whole Family Will Enjoy! but I prefer to imagine that it's Dad's Book of Awesome Recipes: Because Sometimes a Father's Place Is in the Kitchen. I don't know what makes a food a "dad recipe". The point here is that author Mike Adamick has been a stay-at-home-dad for ten years, and his intent is to use this book as a way for dads to bond with their kids in the kitchen. He has sections on "Letting Kids Take the Lead" and ways to encourage kids to creatively modify recipes. He goes over essential kitchen skills to teach kids. As with Hamler's book, Adamick's voice is a nice presence in this how-to cookbook. For example, in his Fruit and Mint Skewers recipe he says, "I'm going to use cantaloupe. You can use anything you like, but this is my book and I like cantaloupe, so there." There are "Dad Tips" sprinkled throughout and the recipes often have a fun kid-friendly angle.
If this author sounds intriguing but your dad doesn't like to cook, professional dad Adamick has also written Dad's Book of Awesome Projects and Dad's Book of Awesome Science Experiments.
Don't See What You're Looking For?
If you don't see a book for your dad here, you may find what you seek in our Fatherhood books section, which has more than 500 books to choose from. Or use this as an excuse to call your mom, and find out just what kinds of books your dad likes to read. I'm sure she'll appreciate it!
---
Editorial note: the first half of this post was written by Steve Cianfichi. Thanks Steve!
Loves nachos, Oakland, and books.