When I saw that Duke Ellington's birthday was coming up, I decided I wanted to know what the best Ellington albums are. I decided to use my go-go-gadget guest post hosting power to find out. I invited Justin Scoville, AKA the Jazz Daddy, to write this post in honor of the Duke's 116th birthday.
---
Today marks what would have been the 116th birthday of America's most important musical figure: Edward Kennedy Ellington. Better known as "Duke," Ellington penned more than 1,000 compositions in his musical career, often in close collaboration with his musical sidekick Billy Strayhorn. Ellington's works were innovative, masterful, and always melodic. His steely resolve and commitment to American music (he disliked being pigeonholed by the term "Jazz") mirrored the majestic mechanics of his beloved (and private) Pullman luxury train which he used to transport his band on their musical exploits.
As a devoted enthusiast of the Duke, I would be thrilled if you took some steps to familiarize yourself with his legacy, life, and music. Check out my synopsis of Duke's autobiography and three of my favorite albums below to get your journey started!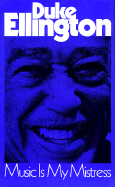 Hands down, this has to be one of the best memoirs ever written. Duke's poignant, reflective, and at times humorous reflections on his life story make for compelling reading. You'll follow his growing up years in Washington, DC (with his first piano teacher named Marietta Clinkscales—no kidding!) to his maturation as a man and bandleader. An intensely private man, Ellington doesn't share much of his personal life (which could easily be the source for a Hollywood drama). Instead, he focuses on his relationships with music and his band members, which is what we're interested in here, right?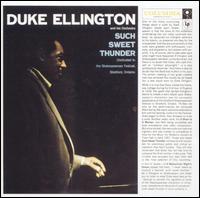 If you're a frequent visitor to Alibris, you surely harbor, at the very least, a begrudging appreciation for William Shakespeare and his contributions to literature. Duke had such an affinity for the Bard that he composed a suite dedicated to Shakespeare's colorful characters. Familiar names like Hamlet, Puck, Iago, and Juliet become the playthings of Duke and his band, with masterful results. As a young trumpet player, I listened to "Madness In Great Ones" over and over in disbelief as Duke's lead trumpeter Cat Anderson sailed climactically into the musical stratosphere, simulating Hamlet's feigned (or was it?) madness.
Duke Ellington – Madness in Great Ones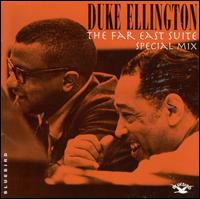 We all have albums we can point to that seem to transcend genre. Graceland, Sargent Peppers, Beethoven's Symphony No. 9, etc. This album has that quality for me. More than perhaps any other composer, Ellington could transport a listener to a different world through his music. Songs like "Tourist Point of View" and "Blue Pepper" will help you save thousands of dollars in travel costs as you're effortlessly transported to Beirut, New Delhi, and other far-off locales.
Duke Ellington – Tourist Point of View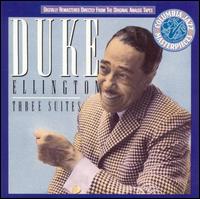 What other composer would tackle Tchaikovsky, Grieg, and a prominent American novelist all on the same record? Duke did. He joyfully leads his band through a brilliant arrangement of The Nutcracker, which provides a tip of the hat to Tchaikovsky whilst infusing some serious swing. Grieg's Peer Gynt is redressed almost as a noir-like film score, and Suite Thursday once again sees Duke paying tribute to a great writer (this time in John Steinbeck). This album is sure to spice up your next Christmas party, if nothing else.
Duke Ellington Studio Session: Tchaikovsky's Nutcracker Suite

---
This  guest post was contributed by Justin Scoville, a semi-active trumpet player and blogger based in Denver. Although he is a sell-out that chose a boring day job over freelance Jazz performance, Scoville spends odd hours listening to obscure Jazz albums and reading research studies about John Coltrane's approach to improvisation, among other fruitful pursuits. He maintains his own website about Jazz and life at thejazzdaddy.com.
Loves nachos, Oakland, and books.