This past Friday at San Diego ComicCon, the Eisner awards were given out to honor the best comics published in 2014. Many categories were honored, from best anthology to best writer.
When many people think of comics, they think of short-form works like the Sunday morning newspaper funnies or single issues like Batman. However there are plenty of longer graphic novels that have all the satisfaction of reading a full-length novel. Because of the pictures, graphic novels can be a nice alternative to mass market or YA books when you're looking for a quick and easy read. They are ideal road trip or airplane reads. Of course you can read them anywhere, I'm just looking for excuses to hook you in! Whether you are just curious about what graphic novels have to offer or perhaps you've read the old stuff and want something new—either way, these ten graphic novels are sure to satisfy. They were chosen by comics industry professionals as this year's Eisner award nominations for long-form works.
Best Graphic Novel: New
The Gigantic Beard That Was Evil, by Stephen Collins (Picador)
Here, by Richard McGuire (Pantheon)
Kill My Mother, by Jules Feiffer (Liveright)
The Motherless Oven, by Rob Davis (SelfMadeHero)
Seconds, by Bryan Lee O'Malley (Ballantine Books)
This One Summer, by Mariko Tamaki & Jillian Tamaki (First Second)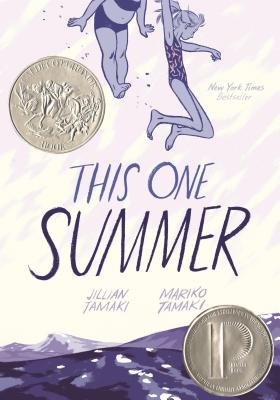 And the Winner Is…
This One Summer
Rose and her parents have been going to Awago Beach since she was a little girl. It's her summer getaway, her refuge. Her friend Windy is always there, too, like the little sister she never had, completing her summer family. But this summer is different. Rose's mom and dad won't stop fighting, and Rose and Windy have gotten tangled up in a tragedy-in-the-making in the small town of Awago Beach. It's a summer of secrets and heartache, and it's a good thing Rose and Windy have each other.
Best Graphic Novel: Reprint
Dave Dorman's Wasted Lands Omnibus (Magnetic Press)
How to Be Happy, by Eleanor Davis (Fantagraphics)
Jim, by Jim Woodring (Fantagraphics)
Sock Monkey Treasury, by Tony Millionaire (Fantagraphics)
Through the Woods, by Emily Carroll (McElderry Books)
And the Winner Is…
Through the Woods
This is a fantastically dark and timeless graphic debut, for fans of Grimm Tales, The Melancholy Death of Oyster Boy and the works of Neil Gaiman. 'It came from the woods. Most strange things do.' Five mysterious, spine-tingling stories follow journeys into (and out of?) the eerie abyss. These chilling tales spring from the macabre imagination of acclaimed and award-winning comic creator Emily Carroll. Come take a walk in the woods and see what awaits you there…
Want to see who else won an Eisner Award this year? Here's that link. If you just can't get enough, see the archive of Eisner winners. When you've chosen the books you want, find them for sale in our comics and graphic novels selection.
Loves nachos, Oakland, and books.