Back in my day, when we had to walk forty miles buck naked through the snow to get to school, journaling was a simple thing. There were no fancy-pants trinkets or tags in fancy fonts. There was little fanciness or fanfare. Our only stickers were Lisa Frank, and these were not generally applied to scrapbooks or journals. In those primitive days, a scrapbook was little more than a photo album, with some recycled paper scraps to use as labels, and the occasional Far Side comic. A journal was a bunch of words, with dates.
Journaling has come a long way since then. It has combined with scrapbooking, to launch an industry of crafty ways of recording your life's accomplishments. Today there is a grand selection of scrapbooking ephemera at your local crafts store. We have more than 500 books in our Scrapbooking category, 39 of them are labeled specifically "scrapbook journaling." My hunch is the trend started with The Decorated Page by Gwen Diehn, at least it was the first book I saw that made a journal look like an art project. But today I want to focus on a more recent title, Art Journal, Art Journey.
Nichole Rae's scrapbooking how-to also uses another trend that's been growing among journal keepers: she favors free-writing. Free writing is where you silence your internal editor, and get the pen moving, jotting down ideas as they come to you. However, the typical stream-of-consciousness writing style is expansive, while Rae's technique is more concise. She makes lists, moving more vertically down the page than across. This makes the journal entries more like poetry, and leaves a lot of room for decor. It also allows her to pick out particular words and emphasize them, adding both visual and poetic appeal. She often uses prompts to spur these lists, like "I carry." ("I have learned" is a good one too.) We have some samples from the book so you can see for yourself just how this technique works.
From what I've seen on social media, there is one aspect of Rae's technique that will fill some of you with rage. Instead of using a blank journal, Rae likes to type her entries up and paste them into the pages of existing books. She lets the images and words already in the book inspire her, covering some pages with original work and letting some bits of the old book show through. She gives thorough instructions on how to best destroy a book and transform it into your own journal. I'd like to console you and remind you that publishers burn many out of print books every year, that books are not so precious as you think—but I know this condolence will fall on deaf ears. So perhaps I might suggest buying a book you don't like? No, even that is too close for your taste to Farenheit 451? Well she does have other projects that allow you to leave your books pristine.
What's your take on playing cards? Below is her mini project to create your own inspirational cards.
Make Your Own Inspirational Card Deck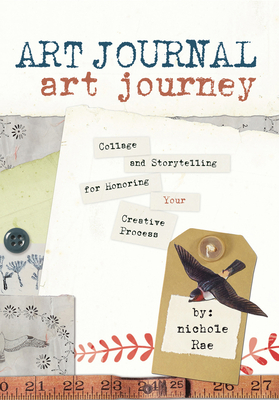 A variation on this is to do the above project using vintage post cards. She's also used miniature journals, individual canvases and postcard-sized paper. Rae calls these "mini projects." Making a few cards a day can launch your creativity, giving you the strength to face larger projects. Because it doesn't take long to make a card, a sense of accomplishment comes quickly.
I hope these samples from Art Journey, Art Journal have been inspiring to you. Many of you are going back to school this month, so there are  journeys waiting to be documented. Years from now, when your memory is not so fresh, you'll wish you'd taken the time to keep a scrapbook or journal. We want to be able to remember the events that make up our life, but for some filling a blank page with words can be tedious. Combining journaling with collage and found art can be a way to make the process of reflection have a bit of whimsy. Do you keep a journal or a scrapbook? Have you ever tried anything like this? Let us know in the comments.
Loves nachos, Oakland, and books.