I want to warn you, gentle readers, that comedians are lousy degenerates, hence much of what is recommended below contains the double whammy of profanity and politics. That's one thing I love about comedy. No, not that it gives me an excuse to curse like your Aunt Tom. Rather, stand up can be a way to talk about things that are terribly awkward, whether it's fear of death, fear of government, or farting in public. Below are some outstanding routines that bravely tackle tough topics by ten masters of the comic's craft.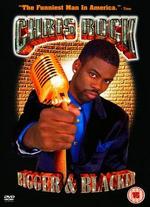 This is the stand up special that brought us "The Tussin'," and "No Sex in the Champagne Room."
If you don't remember "No Sex in the Champagne Room," it's a parody of a nineties hit song from the guy who directed Romeo & Juliet, based on a fake high school commencement speech. What am I saying, of course you remember it. But here it is because you want to watch it again anyway.
Bigger & Blacker made his Harlem audience roar with laughter on topics as serious as race and school shootings. But a great routine is more than stringed-together one-liners, and Rock knows it. In a 2000 interview with Observer, Chris Rock talks about stepping up his routine from professional to epic. "It's a lot more than just jokes. I had to learn that. In my act, I might do a great joke, then I would do two or three really cheap ones. I'd think, 'If they're laughing, it's all good.' That's not true. You'd do a thing about South Africa, then you do a big thing about periods; you just took away your South Africa thing. It doesn't exist any more."
Watch Bigger & Blacker to see the way that a comedian can build a set, not as a series of jokes, but as a sermon that builds and builds, until there is nothing left but to drop the mic and walk away.
I don't know why John Leguizamo is so often overlooked for lists of this nature. His special Freak was directed by Spike Lee and won both an Emmy and an ALMA award. The content is more structured than most comedy specials, closely following his autobiography. Leguizamo makes use of the entire stage, from dancing to going into the crowd to literally climbing the walls. This one-man autobiographical show  has more characters than an episode of Game of Thrones. Leguizamo is charming and funny, but what catapults the special to greatness is his ability to embody these characters. He can change the shape of his face such that you will believe he was born to play whatever race, class and gender he is taking on at the moment. Watch the way he uses his body to get a joke out of every gesture in this clip.
What makes one person laugh may differ from human to human, but there's no denying in watching this show that every line in Freak is perfectly delivered.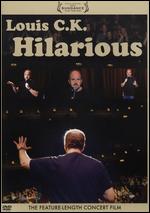 It speaks volumes about Louis C.K. that he opens this comedy special by pointing out that you're all going to die, and follows this up with comparing Hitler to Ray Charles. Completely fearless, he owns the stage, tackling topics others wouldn't dare. It's enough to make you believe this guy can make anything funny. The bit on cell phones and airplanes so captures the zeitgeist that you'll find it's easy fodder for cocktail parties and Facebook shares. Easily Louis C.K. is doing the best work in stand up right now. I recommend all of his stand up specials but this one is my favorite.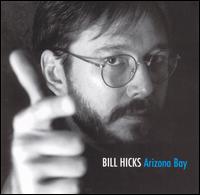 It's hard for me to compare this album fairly to the others, because I've listened to it so many times, I know the jokes when they're coming. Bill Hicks is to comedy what the Pixies are to alternative rock: an act that has become legendary over time because so many of today's visionaries point to it as their inspiration. His jokes about Bush, the recording industry and the war in the Middle East don't sound nearly as dated as they should. Fans of Russel Brand will recognize the master of ideology as comedy while fans of Denis Leary can, sadly, see the source of many of Leary's jokes.
I'm going to deviate from your expectations and choose Arizona Bay, because it includes my all-time favorite bit from any comedian, the one about "Dinosaurs in the Bible." This is an audio CD and the sections have a musical soundtrack that I happen to enjoy, but for those who prefer a their comedy served up straight, check out Relentless.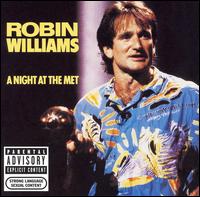 Please don't think that Robin Williams's recent unfortunate demise is what has earned him a spot on this list. His comic genius is unparalleled. I remember when I was kid, watching him improvise impersonations during the Comic Relief benefit specials. It was amazing how Billy Crystal and Whoopi Goldberg, legendary comedians in their own rights, could barely keep up. A Night at the Met was the special Williams released before he moved from stand up comic to blockbuster actor—it came out just before his starring role in Good Morning Vietnam. Watching this special, the jokes and impressions come swooping by so fast it's hard to tell what is rehearsed and what is improvised.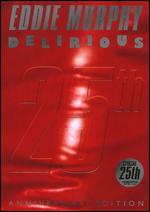 This album came out when Eddie Murphy was only 22, and he drops both the F-bombs liberally throughout. Which is both a warning and a notice: this is not the same Eddie who has been cashing paychecks on silly family flicks. Years before he made the best-selling comedy album of all time, before the the controlled expertise of Raw, he was full-on delirious. I heard this routine when I was younger than my mama would like to admit, but I still quote his bit about the ice cream man to this day.
Speaking of mic drops, this is one of the first videos that has one, albeit not as traditionally done at the end. Murphy cleverly uses a mic drop to handle the tension in the room created by a heckler.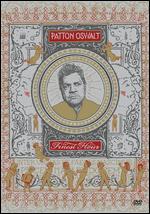 Patton Oswalt has a gift for word play. He is a poet at heart, putting together delightful and surprising phrases like "Dr. Seuss on an angry pussy hunt" or "devoured by shit piranhas." You probably recognize Patton Oswalt from his many bit parts, but his name hasn't yet received the recognition of, say, Louis C.K. Yet upon writing this list, it's replaying the Patton Oswalt bits  that are making me laugh out loud, most likely irritating my otherwise-patient Alibris coworkers. Take note: this routine is destined to be a classic.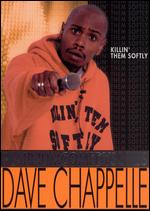 With so many classic stand up comedians, topics like race and relationships are tired ground. Which is why it's so impressive the way Killin' Them Softly tackles those themes. His bit about the limo in the DC ghetto is a prime example. Where other comedians might have ended the bit with the baby on the street corner, Chappelle is just getting started. His section on Clinton would be hilarious even if he didn't do a spot-on impersonation. Watch this DVD and never look at Sesame Street the same way again.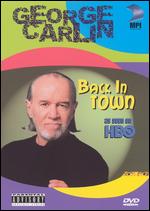 Carlin has probably influenced more comedians than any other in the past thirty years. When it comes to gutsy openings Louis C.K. owes it all to George Carlin. Imagine the nerve it takes to open a set with eight minutes devoted to the knee-slapping topic of abortion. From there it's quintessential Carlin philosophizing. "The sanctity of life doesn't seem to apply to cancer cells does it," he wonders. The bit on "state prison farms" is surprisingly on the nose, considering this was before the rise of reality TV. The second half of Back in Town is declared "free-floating hostility," a stream of tiny rants. Some rants may make you laugh because you agree with their frustration, others precisely because you've never thought of them before. Indeed, where are these tubes that the country is heading down? Do we really need to keep up with Mickey Mouse on the news? Carlin will have you wondering as you laugh.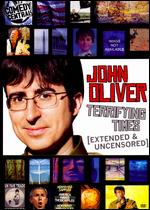 I had the good fortune to see John Oliver perform and his was the funniest live stand up performance I've ever seen. He's still young, but you can see the maturity of his technique in the bit about running the childhood race. As he builds up to the reveal as to exactly why he felt a breeze in his gym shorts, he delays every word, building the audience's anticipation. What impresses me the most about John Oliver is his skill in making politics palatable. Even though, as a Brit, he's an outsider, he can somehow do joke after joke about American politics and it never comes off as offensive. In Terrifying Times Oliver says, falling in love with America at this time in history  is"like falling in love with a girl who was just throwing up all over herself." And that pretty much summarizes what you get in this stand up routine. If you're a fan of his HBO show Last Week Tonight, get this DVD. If it's not destined to be a classic, that's only because his best may yet still be in front of him.
All Wrong! All Wrong! How Could You Leave Off Jack Benny!
These are the comedy routines that I would force feed to friends and enemies alike, but there are so many great ones I'm sure you have a completely different list. At least, that's what happened when I tried to discuss this list in the Alibris office. Where is Steve Martin on my list? How can I talk about political stand up without a single reference to Lenny Bruce? Clearly I'm going to need another whole list just for the ladies. Alas, my post, my choices. All you get are the comments.
Loves nachos, Oakland, and books.