Posted September 16, 2011
This debut poetry chapbook by Laura Schultz offers an enchanting collection of poems - vulnerable, haunting and evocative. Laura has a unique and rare depth in her poetry that reaches past the boundaries of self. She wields her paintbrush of....
---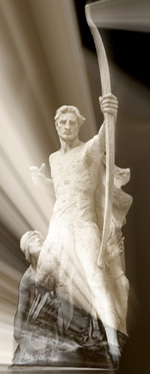 Silver Bow Publishing
778-714-1773
We are a Canadian book publisher specializing in NEW books by international contemporary poets and vibrant new voices on today's poetry scene. We also sell NEW Music CDs all genres by international indie artists and bands. Visit our youtube channel for video samples of poetry and songs. www.youtube.com/saddlestone11
You'll find the hard to find books, and CDs HERE! We have NEW international rising stars of POETRY. We have vintage collector item books copyright 1800s. We have INDIE ARTISTS & BANDS in all genres of music. We are building our online catalogue with new entries every week, so if you can't find it this week, keep checking, you might find it next week! If you can't find it here.....we may have it hiding in our warehouse, so email us your request and we will check it out! silverbowpublishing@gmail.com
E-mail Silver Bow Publishing
Overall Seller Rating:
Alibris seller since July 2011
---
Search for books from Silver Bow Publishing Advanced Search
Search 39 books from this seller
Spotlight book from Silver Bow Publishing
A poignant travel through an emotional landsacpe of love, joy, family, loss and sorrow. This second offering from Donna Ross-Thengs is a testament to the human heart and all the feelings enfolded within it.
Featured books from Silver Bow Publishing
by
Candice James
$17.21
various. New in new dust jacket. 98 p. Includes: illustrations, index, bibliography. A 98 page poetry book of Villanelles with a full colour/full page painting for each poem by Candice James Poet Laureate. The artist paintings included are by Don Portelance, Janet Kvammen, Doreen Bruce, Valerie Barron-McRae, Rex Howard, Emily Cuthbertson and Candice James. The subject matter runs the gamut of everything from love, to nature to darker villanelles.
by
Alan Hill
$17.45
New in new dust jacket. 71 p. Inhabiting a sibling's dark perspective and the memory of his own experience, Alan Hill investigates his relationship with his schitzophrenic brother and the effect on the family at large. These poems will surprise readers with some startling and intense images like "cigarettes at night/burning with the pur and atom slipping brightness/ of the first fires..."-Calvin Wharton Chair of the Creative Writing Dept. Douglas College. In this his second collection of poetry ...
---
The Upstairs Country more books like this

by Hill, Alan other copies of this book

Edition: First edition. Binding: Mass-market paperback Publisher: Silver Bow Publishing Date published: 2012 ISBN-13: 9780986809798 ISBN: 0986809799

Description: New in new dust jacket. 94 p. Includes index. A Fresh new voice on Vancouver's poetry scene, Alan Hill's imaginative and dryly comic poems depict the journey of a man who somehow arrived in early middle-age and wondered: "How on earth did I get here? " The backstreets of Paris, Vietnam's Merkong Delta, bus journeys in Australia dn Hill's home county of Gloucestershire all feature in "The Upstairs Country". Along the way we meet an array of people, both real and imagined, but most importantly, ... Read More

Bridges And Clouds more books like this

by James, Candice other copies of this book

Edition: First edition. Binding: Trade paperback Publisher: Silver Bow, New Westminster, BC Canada Date published: 2011 ISBN-13: 9780986809781 ISBN: 0986809780

Description: New in new dust jacket. Signed by author. 106 p. Includes index. Poet Laureate Candice James' 3rd book is a a collection of poems separated into the following sections: Nature poems; Love poems; India poems; Form poems; Best of The Rest. Cover design by Janet Kvammen. This book is a collection of both free verse and rhyming poetry. There is something for everyone in this book boasting realism, surrealism and eclectic mind wanderings. Read More

Wisdom Of A Thousand Fools more books like this

by Parks, Valerie other copies of this book

Edition: First edition. Binding: Mass-market paperback Publisher: Silver Bow, New Westminster, BC CANADA ISBN-13: 9780986809750 ISBN: 0986809756

Description: New in new dust jacket. 80 p. Includes index. Val Parks 2nd book of poetry touches on passion, loss, temptations, self, pride, guilt, desperation, inspiration, obsession, artifice, disappointment, illusions and contentment. She handles all these human conditions and emotions with empathy, compassion but still calls a spade a spade when warranted. Read More

Postcards more books like this

by Nuttall-Smith, Ben other copies of this book

Edition: First edition. Binding: Trade paperback Publisher: Silver Bow Publishing, Canada Date published: 2013 ISBN-13: 9781927616031 ISBN: 1927616034

Description: New in new dust jacket. 109 p. Postcards is a journey of discovery to places and cultures most of us want to explore. The poetry is profound, entertaining, humorous. In language and rhythm, each postcard becomes a poetic canvas. The wash, all vibrant landscapes, ethereal beauty, ocean moods, feasts and fauna, soon morph into stunning impressions of places, customs and characters in comical scenes from real life. These poems are mesmeric. Their mosaic images guide us through the spheres and ... Read More

Arise and Shine, Laments from the Darkness, Songs of the Light more books like this

by Laura Schultz other copies of this book

Edition: First edition. 1st Binding: Mass-market paperback Publisher: Silver Bow Publishing, CANADA ISBN-13: 9780986809736 ISBN: 098680973X

Description: New in new dust jacket. 63 p. Includes: illustrations, index. This debut poetry book by Laura Schultz is evocative, passionate and enhanced with 21 color photographs by Anton Mueller and paintings by the poet's mother. Laura wields her paintbrush and takes us on a memorable journey down the pathways of her heart into the core of her soul. New in new dust jacket. 63 volume set. Poetry p. Includes illustrations Read More

Inner Heart-A Journey more books like this

by Candice James other copies of this book

Edition: First edition. Binding: Paperback Publisher: Silver Bow publishing, New Westminster, BC CANADA Date published: 2010 ISBN-13: 9780986809705 ISBN: 0986809705

Description: Very good in very good dust jacket. 100 p. Includes index. 100 page poety book chapbook of the agonies and ecstacies of love by Canadian Poet Laureate Candice James. This book runs the full gamut of love's joys, heartaches, tears, smiles, illustions, allusions, and realities. A must read for the "deep" lover! Read More

Black Arrow more books like this

by Robert Louis Stevenson other copies of this book

Edition: First edition. Binding: Hardcover Publisher: J.M. Dent & Sons, London, England Date published: 1931

Description: Very good. No dust jacket. Signed by previous owner. 256 p. Read More

The Merchant of Venice more books like this

by William Shakespeare other copies of this book

Binding: Mass-market paperback Publisher: Ryerson Press, Toronto, Canada Date published: 1929

Description: Very good. No dust jacket. 139 p. Read More

King Henry V more books like this

by William Shakespeare other copies of this book

Binding: Mass-market paperback Publisher: Cambridge University Press, London, Edinburgh Date published: 1916

Description: Very good. No dust jacket. 256 p. Edited by A.M. Verity Sometime Scholar Of Trinity College (this is how it reads on the title page) quite a rarity Read More
---