Posted April 29, 2014
I find that almost all of my favorite books are those where the characters stay and are used in other books. They become friends and I look forward to reading more about their exploits. Of course, that causes the necessity of purchasing....
---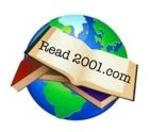 Read2001
775-297-3243
Rare & Collectible,Antiquarian, Vintage, and Used books for your reading and collecting pleasure!
We're on Facebook! Friend us! Our website is back! Visit Often! Check out our blog! http://read2001.wordpress.com/ Let us be of service!
E-mail Read2001
Overall Seller Rating:
Alibris seller since December 2007
---
Search for books from Read2001 Advanced Search
Search 1,886 books and 5 movies from this seller
Spotlight book from Read2001
Illustrated with photogravures and engravings from paintings by: Maurice Leloir; Francois Flameng; F. Philippoteaux; Lucius... Very good. No dust jacket as issued. 25 volume set, will be additional shipping and insurance cost 25 volumes filled with adventure and swashbuckling from the French courts. Books will be sold as a set. Titles include: The Two Dianas, Vol 1 & 2; The Whites & The Blues, Vol 1 & 2; The Count of Monte Cristo, Vol 1 & 2; The Page of the Duke of Savoy, Vol 1 & 2; The Regent ...
Featured books from Read2001
by
Russell, Bertrand
$150.00
Good. No dust jacket as issued. 320 pgs. Russell's opinions, (especially those relating to sexual morality, detailed in Marriage and Morals made him "morally unfit" to teach at the college. Albert Einstein's often-quoted aphorism that "Great spirits have always encountered violent opposition from mediocre minds..." originated in his open letter in support of Russell, during this time. In 1950, Russell was awarded the Nobel Prize in Literature, in recognition of his varied and significant ...
by
Lady Florentia Wynch Sale
$600.00
Good No dust jacket as issued. 258 p. Includes illustrations. During the First Anglo-Afghan War, Lady Sale, along with other women and children, as well as soldiers, were kidnapped in 1842 for nine months. Lady Sale, however, bribed the Afghan officers into releasing them, and were then rescued by Sir Richmond Shakespeare on 17 September, 1842. A year later Lady Sale published her journal, which documented her experiences throughout the Afghan War, and the book received critical acclaim.
---
The Complete Works of O. Henry more books like this

by William Sydney Porter other copies of this book

Binding: Hardcover Publisher: Doubleday & Company Inc., Garden City, N.Y. Date published: 1907

Description: Very good. No dust jacket as issued. 2 volume set. Whether roaming the cattle-lands of Texas, exploring the art of the "gentle grafter, " or investigating the tensions of class and wealth in turn-of-the-century New York, O. Henry had an inimitable hand for isolating some element of society and describing it with an incredible economy and grace of language. His stories are also well known for witty narration. Most of O. Henry's stories are set in his own time, the early years of the 20th century ... Read More

condition:

Book:

Seller Name & Rating:

Read2001, NV, USA

Financial Crises and Periods of Commercial Depression more books like this

by Theodore E. Burton other copies of this book

Edition: First edition. Binding: Hardcover Publisher: D. Appleton & Company, New York, NY Date published: 1917

Description: Good. No dust jacket. Burton tries to clarify the confusion surrounding economic phenomena such as panics, crises, and depressions. He attempts to identify their causes and effects and looks at whether depressions are unavoidable features of a transition period in business and industry. He also examines the periodicity of crises and depressions and if they regularly recur or are the result of chance. THEODORE ELIJAH BURTON (1851-1929) represented Ohio in the U.S. Congress for forty-one years. ... Read More

condition:

Book:

Seller Name & Rating:

Read2001, NV, USA

Personal Memoirs of Ulysses S Grant more books like this

by Ulysses S. Grant other copies of this book

Edition: First edition. Binding: Hardcover Publisher: JJ Little & Co, New York Date published: 1885

Description: Poor in good dust jacket. Signed by author. Leather front and back covering will have to be replaced. Inside cover in very good condition, as the pages. 2 volume set. 1231 p. Includes illustrations. Vol 1 has 584 pages; Vol 2 has 647 pages. Both volumes have signature of author printed under his picture. Pictures available upon request. General Grant dedicated the two volumes to the American soldiers and sailers. The dedication with Grants signature and the date is in Volume 1. Volumes will not ... Read More

condition:

Book:

Seller Name & Rating:

Read2001, NV, USA

Ben-Hur, a tale of Christ more books like this

by Wallace, Lew other copies of this book

Edition: Second Edition Binding: Hardcover Publisher: Harper & Brothers, New York, NY Date published: 1887

Description: Good no dust jacket issued. 552pgs; Brown cloth, gold gilt printing; Includes only 4 pgs of Publishers books, publishing error at printing; Includes First time new 11 word dedication to his wife appears " To The wife of my youth who still abides with me. Includes misprint be-became on page 11. A remake of the movie, Ben Hur is due to be released in 2016. Read More

condition:

Book:

Seller Name & Rating:

Read2001, NV, USA

The Fireside Book of Christmas Stories more books like this

by Wagenknecht, Edward other copies of this book

Edition: First edition. Binding: Hardcover Publisher: The Bobbs-Merrill Company, New York, NY Date published: 1945

Description: Morgan, Wallace. Good. Red cloth binding with gold leaf bells on front board and gold leaf print on spine. 656 p. 44 different Christmas stories, Sections, Christmas is Christ; Christmas is Santa Claus; Christmas is Dickens; Christmas is Home. Beautifully written stories to share with family at Christmas time Read More

condition:

Book:

Seller Name & Rating:

Read2001, NV, USA

The Next Always more books like this

by Roberts, Nora other copies of this book

Binding: Trade paperback Publisher: Berkley Publishing Group, New York, NY Date published: 2011 ISBN-13: 9780425243213 ISBN: 0425243214

Description: Good. Trade paperback (US). Glued binding. 341 p. Book One of the Inn Boonsboro Trilogy, meet and fall in love with Beckett and Clare; Read More

condition:

Book:

Seller Name & Rating:

Read2001, NV, USA

The Last Boyfriend more books like this

by Roberts, Nora other copies of this book

Binding: Trade paperback Publisher: Berkley Publishing Group, New York, NY Date published: 2012 ISBN-13: 9780425246030 ISBN: 0425246035

Description: Good. Trade paperback (US). Glued binding. 336 p. Inn Boonsboro Trilogy, 2. Audience: General/trade. Book Two of the Inn Boonsboro Trilogy, Read More

condition:

Book:

Seller Name & Rating:

Read2001, NV, USA

The Third Eye more books like this

by Lois Duncan other copies of this book

Binding: Softcover Publisher: Laurel Leaf Books, Dell Inc, New York, NY Date published: 1984 ISBN-13: 9780440987208 ISBN: 0440987202

Description: Good no dust jacket issued. Out of Print. Read More

condition:

Book:

Seller Name & Rating:

Read2001, NV, USA

The Impossible Alliance more books like this

by Candace Irwin other copies of this book

Binding: Softcover Publisher: Harliquin Books, Silhouette, New York, NY Date published: 2003 ISBN-13: 9780373272846 ISBN: 0373272847

Description: Excellent no dust jacket issued. 248 pgs He thought nothing could restore his belief in the future, until he met the woman he wanted to build one with. Read More

condition:

Book:

Seller Name & Rating:

Read2001, NV, USA
---