Posted November 9, 2015
BUY REAL BOOKS!!! You can't put an e-book under the Christmas tree.
---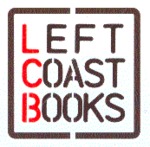 Left Coast Books
Established in Santa Barbara, Left Coast Books specializes in ART BOOKS, offering thousands of titles on painting, sculpture, graphic arts, architecture, design, photography, film, video, and performance art. We also sell classics, literature, history, and a broad variety of useful academic books.
E-mail Left Coast Books
Overall Seller Rating:
Alibris seller since October 2003
---
Search for books from Left Coast Books » advanced search
Search 19,964 books from this seller
Orson Welles: a Biography more books like this

by Leaming, Barbara other copies of this book

Binding: Mass Market Paperback Publisher: Penguin Books, Harmondsworth Date published: 1986 ISBN-13: 9780140096200 ISBN: 0140096205

Description: Good. 12mo-over 6¾"-7¾" tall. xiv, 700 pp., [16] pp. of plates, illus., bib. notes, index; 18 cm. Firm binding, with one spine crease. Clean inside copy. Tanned edges. Read More

Vested Interests: Cross-Dressing & Cultural Anxiety more books like this

by Garber, Marjorie B. other copies of this book

Edition: 1st Binding: Paperback Publisher: HarperPerennial; HarperCollins, New York Date published: 1993 ISBN-13: 9780060975241 ISBN: 0060975245

Description: Good. 8vo-over 7¾"-9¾" tall. xiii, 443 pp., [40] pp. of plates, illus. (some col. ), bib. notes, index; 24 cm. Firm binding, clean inside copy. Creased front cover. First edition thus. Transvestism. Read More

Young Winston more books like this

by Foreman, Carl other copies of this book

Edition: 1st Binding: Mass Market Paperback Publisher: Ballantine Books, New York Date published: 1972 ISBN-13: 9780345028990 ISBN: 0345028996

Description: Good. Movie Tie-in. 12mo-over 6¾"-7¾" tall. 157 pp., illus.; 18 cm. Good+. Tight, clean copy. Browning. Stated "First Printing, October, 1972." Columbia Pictures, 1972. Read More

Adventures in a Tv Nation more books like this

by Moore, Michael, And Glynn, Kathleen other copies of this book

Binding: Paperback Publisher: HarperPerennial; HarperCollins, New York Date published: 1998 ISBN-13: 9780060988098 ISBN: 0060988096

Description: Very Good. 8vo-over 7¾"-9¾" tall. x, 241 pp., illus.; 24 cm. Near fine. Tight, clean copy. Light edgewear to wraps, age toning. "Based on an American television show, of the same name, it brims with Michael Moore's special brand of subversive humour that melds outright silliness with poignant realisation. From the oh-so-obvious Serial Killer Next Door who's ignored by his neighbours: to Mike enjoying some quality time with Dr. Kevorkian: to raising money for Charles Keating, this is a ... Read More

Reel Bad Arabs: How Hollywood Vilifies a People more books like this

by Shaheen, Jack G.; Greider, William (Foreword By) other copies of this book

Binding: Paperback Publisher: Olive Branch Press, New York Date published: 2001 ISBN-13: 9781566563888 ISBN: 1566563887

Description: Good. 8vo-over 7¾"-9¾" tall. viii, 574 pp., bib. notes, index; 23 cm. Good+. Some bracketing & underlining in the Introduction, otherwise tight & clean. A superb book, the main body of which is an alphabetical filmography, with detailed descriptions of stereotypical stock Arabs in Hollywood cinema. Read More

Without Feathers; Getting Even; Side Effects more books like this

by Allen, Woody other copies of this book

Binding: Paperback Publisher: Quality Paperback Book Club, New York Date published: 1989

Description: Very Good. 8vo-over 7¾"-9¾" tall. 1-210, 1-151, 1-149 pp.; 21 cm. Tight, clean text. Small stain/top edge. Age toning. Read More

New Challenges for Documentary more books like this

by Rosenthal, Alan (Edited By) other copies of this book

Binding: Paperback Publisher: University of California Press, Berkeley, CA Date published: 1988 ISBN-13: 9780520057241 ISBN: 0520057244

Description: Good. 8vo-over 7¾"-9¾" tall. xvii, 615 pp., biblio., index; 25 cm. Good+. Firm binding, clean text. Previous owner's blind stamp on flyleaf, otherwise tight & clean. Lightly bumped, lower right. Age toning. Another copy available. Excellent anthology. CONTENTS: Introduction; Theories and forms: Documentary as genre; The voice of documentary; The image mirrored: Reflexivity and the documentary film; Television, documentary and the category of the aesthetic; Mirrors without memories: Truth, ... Read More

Women's Films in Print: an Annotated Guide to 800 16mm Films By Women more books like this

by Dawson, Bonnie other copies of this book

Binding: Paperback Publisher: Booklegger Press, San Francisco Date published: 1975

Description: Good. 8vo-over 7¾"-9¾" tall. x, 165 pp.; 23 cm. Good+. Highlighting, minimal. Read More

Renoir, My Father more books like this

by Renoir, Jean; Weaver, Randolph, And Weaver, Dorothy (Joint Translators) other copies of this book

Edition: New edition Binding: Paperback Publisher: Columbus Books, London Date published: 1988 ISBN-13: 9780862873943 ISBN: 0862873940

Description: Good. 8vo-over 7¾"-9¾" tall. 416 pp., illus., index; 22 cm. Good+. Firm binding, clean text. Lightly soiled edges, staining on leaves facing wraps. Read More

City of Nets: a Portrait of Hollywood in the 1940'S more books like this

by Friedrich, Otto other copies of this book

Binding: Paperback Publisher: Perennial Library; Harper & Row, Publishers, New York Date published: 1987 ISBN-13: 9780060914394 ISBN: 0060914394

Description: Very Good. 8vo-over 7¾"-9¾" tall. xiii, 495 pp., illus., biblio., index; 23 cm. Firm binding, with one spine crease. Clean inside copy. Age toning. Read More

Close Encounters of the Third Kind more books like this

by Spielberg, Steven other copies of this book

Edition: 1st Binding: Mass Market Paperback Publisher: Dell, New York Date published: 1977 ISBN-13: 9780440114338 ISBN: 0440114330

Description: Very Good. Movie Tie-in. 12mo-over 6¾"-7¾" tall. 256 pages; 18 cm. Tight, clean copy. Expected browning. Stated "First Dell Printing." Read More

Robert Altman: Jumping Off the Cliff: a Biography of the Great American Director more books like this

by McGilligan, Patrick other copies of this book

Edition: 1st Binding: Paperback Publisher: St. Martin's Press, New York Date published: 1991 ISBN-13: 9780312055059 ISBN: 0312055056

Description: Good. 8vo-over 7¾"-9¾" tall. xx, 652 pp., illus., biblio., index; 23 cm. Good+. Firm binding, with one spine crease. Clean inside copy. Another copy available. "A vivid and by no means uncritical portrait of one of the most interesting directors of our time."-Ebert. Read More

Ava Gardner: "Love is Nothing" more books like this

by Server, Lee other copies of this book

Binding: Paperback Publisher: St. Martin's Griffin, New York Date published: 2007 ISBN-13: 9780312312107 ISBN: 0312312105

Description: Very Good. 8vo-over 7¾"-9¾" tall. 551 pp., [16] pp. of plates, illus., biblio., filmography, index; 24 cm. Firm binding, clean inside copy. Age toning, top edge lightly soiled. "The dramatic life of the incomparably beautiful and swashbuckling Ava Gardner--one of Hollywood's most beautiful actresses and lover of many men, from bullfighters to Frank Sinatra--by The New York Times bestselling author of ROBERT MITCHUM: Baby, I Don't Care."-Publisher. Read More

America in the Movies Or "Santa Maria, It Had Slipped My Mind" more books like this

by Wood, Michael other copies of this book

Edition: 1st Binding: Paperback Publisher: Dell Books; Delta, New York Date published: 1976

Description: Good. 8vo-over 7¾"-9¾" tall. xi, 206 pp., illus., index; 20 cm. Good+. Firm binding, gently creased spine. Clean inside copy. Age toning. Read More

Why We Write: Personal Statements and Photographic Portraits of 25 Top Screenwriters more books like this

by Elbert, Lorian Tamara other copies of this book

Edition: 1st Binding: Paperback Publisher: Silman-James Press, Los Angeles, CA Date published: 1998 ISBN-13: 9781879505452 ISBN: 1879505452

Description: Very Good. Oblong. xvi, 233 pp., illus.; 21 x 23 cm. Near fine. Tight, clean text. Short notation/last leaf. Edited and photographed by Lorian Tamara Elbert. Read More

Black Popular Culture more books like this

by Wallace, Michele (Compiled By); Dent, Gina (Edited By) other copies of this book

Binding: Paperback Publisher: Bay Press, Seattle, WA Date published: 1992 ISBN-13: 9780941920230 ISBN: 0941920232

Description: Good. 8vo-over 7¾"-9¾" tall. ix, 373 pp., illus.; 22 cm. Discussions in Contemporary Culture, no. 8. Good+. Some light marginalia on a couple of pages, otherwise tight & clean. CONTENTS: Black pleasure, black joy: an introduction, by Gina Dent; What is this "black" in black popular culture? , by Stuart Hall; I: Popular culture: theory and criticism; Nihilism in black America, by Cornel West; Dialectically down with the critical program, by bell hooks; The documentary impulse in contemporary U.S ... Read More

Close-Up: a Critical Perspective on Film more books like this

by Kinder, Marsha, And Houston, Beverle other copies of this book

Binding: Paperback Publisher: Harcourt Brace Jovanovich, New York Date published: 1972 ISBN-13: 9780155077508 ISBN: 0155077503

Description: Very Good. 8vo-over 7¾"-9¾" tall. xv, 395 pp., illus., filmography, index; 24 cm. Tight, clean copy. Light edgewear to wraps, age toning. Dogeared a few times. Read More

Postmodern Currents: Art and Artists in the Age of Electronic Media more books like this

by Lovejoy, Margot other copies of this book

Edition: 2nd Binding: Paperback Publisher: Prentice Hall, Upper Saddle River, NJ Date published: 1996 ISBN-13: 9780131587595 ISBN: 0131587595

Description: Good. 8vo-over 7¾"-9¾" tall. xxiii, 319 pp., illus., biblio., index; 23 cm. Reading copy: Highlighting on a dozen pages, chiefly clean. Another copy available. "Postmodern Currents: Art and Artists in the Age of Electronic Media explores in detail the growing impact of video and computer technologies, and of the Internet, on aesthetic experience and examines the emerging role of the artist as social communicator. It recounts the involvement of such artists as Jenny Holzer, Nam June Paik, Bill ... Read More

The Social History of Art, Volume Four: Naturalism, Impressionism, the Film Age more books like this

by Hauser, Arnold; Godman, Stanley (Translated By) other copies of this book

Edition: 1st Binding: Mass Market Paperback Publisher: Vintage Books; Random House, New York Date published: 1958

Description: Good. 12mo-over 6¾"-7¾" tall. 259, xii pp., illus., bib. notes, index; 18 cm. Good+. Tight, clean copy. Scrape/front cover, penetrates the front matter. Age toning. Please note: Volume Four only. A Marxist approach to art history. Recommended by Left Coast Books. Read More

King Vidor more books like this

by Baxter, John other copies of this book

Binding: Paperback Publisher: Monarch Press; Simon & Schuster, New York Date published: 1976 ISBN-13: 9780671081034 ISBN: 0671081039

Description: Very Good. 8vo-over 7¾"-9¾" tall. vii, 94 pp., illus., filmography, bibliography; 24 cm. Monarch Film Studies Ser. Firm binding, clean inside copy. Previous owner's bookplate/inside front cover. Read More

Movie-Made America: a Cultural History of American Movies more books like this

by Sklar, Robert other copies of this book

Edition: 1st Binding: Paperback Publisher: Vintage Books; Random House, New York Date published: 1976 ISBN-13: 9780394721200 ISBN: 0394721209

Description: Good. 8vo-over 7¾"-9¾" tall. vii, 340 pp., illus., biblio., index; 23 cm. V-120. First published, 1975. Good+. Tight, clean text. Bookplate/inside front cover, ink stamp/top edge, otherwise unmarked. Browning. Classic history of American film. "Hailed as the definitive work upon its original publication in 1975...this vastly absorbing and richly illustrated book examines film as an art form, technological innovation, big business, and shaper of American values."-Publisher. Read More

Women in Film: an International Guide more books like this

by Kuhn, Annette, And Radstone, Susannah (Joint Editors) other copies of this book

Edition: 1st Binding: Paperback Publisher: Fawcett Columbine, New York Date published: 1991 ISBN-13: 9780449905753 ISBN: 0449905756

Description: Good. 8vo-over 7¾"-9¾" tall. xvi, 500 pp., illus., indexes; 21 cm. Tight, clean copy. Creased front cover. Browning. Stated "First American Edition: January 1991." Read More

Dreaming Identities: Class, Gender, and Generation in 1980s Hollywood Movies more books like this

by Traube, Elizabeth G. other copies of this book

Binding: Paperback Publisher: Westview Press, Boulder, CO Date published: 1992 ISBN-13: 9780813313146 ISBN: 0813313147

Description: Good. 8vo-over 7¾"-9¾" tall. xi, 207 pp., biblio., index; 24 cm. Good+. A few scattered pencil marks. Read More

Our Media, Not Theirs: the Democratic Struggle Against Corporate Media more books like this

by McChesney, Robert W., And Nichols, John other copies of this book

Edition: 1st Binding: Mass Market Paperback Publisher: Seven Stories Press; An Open Media Book, New York Date published: 2002 ISBN-13: 9781583225493 ISBN: 1583225498

Description: Fine. 12mo-over 6¾"-7¾" tall. 140 pp.; 18 cm. Forewords by Noam Chomsky, Barbara Ehrenreich, and Ralph Nader. Tight, clean copy. 1st thus. "Our Media, Not Theirs! The Democratic Struggle Against Corporate Media examines how the current media system in the United States undermines democracy, and what we can do to change it. McChesney and Nichols begin by detailing how the media system has come to be dominated by a handful of transnational conglomerates that use their immense political and ... Read More

Humphrey Bogart more books like this

by Barbour, Alan G. other copies of this book

Binding: Paperback Publisher: Pyramid Publications; Pyramid Illustrated History of the Movies Ser., New York Date published: 1974

Description: Good. 8vo-over 7¾"-9¾" tall. 160 pp., illus., filmography, biblio., index; 20 cm. M2390. Tight, clean text. Previous owner's signature/inside front cover, otherwise tight & clean. Browning. Read More
---