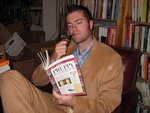 Kristian A. Strom, Bookseller
Specialties include Signed First Editions, Bizarre Books, Preppy Books, Kansas & Wichita History, Aviation, Poetry and Art/Photography
Kristian A. Strom, Bookseller, has been in business since 2002. I am a member of the IOBA (Independent Online Booksellers Association) and adhere to the highest standards of quality and customer satisfaction. My specialties include Kansas & Wichita History, Art, Literature & Poetry, Aviation and Bizarre Books. All of my books are shipped quickly, and with secure packaging materials. Any item not meeting expectations can be returned for a full refund. I appreciate your business. You can visit my blog at http://www.kristianstrom.com
E-mail Kristian A. Strom, Bookseller
Overall Seller Rating:
Alibris seller since February 2006
---
Search for books from Kristian A. Strom, Bookseller Advanced Search
Search 1,754 books, 46 movies, and 116 music items from this seller
Spotlight book from Kristian A. Strom, Bookseller
Fair. B001V38MZA 1913 The Cornell Era, Vol. 45, No. 6. An extremely scarce 63pp journal outlining the details of Cornell's first championship of the Inter-Collegiate league. Includes photographs of captain G.C. Halsted and the entire squad. Also includes articles on Railway Signal Engineering as a Profession, Do We Really Need Dormitories? and True Sport and Sportsmanship. This copy is in acceptable condition, with a large chip to the front cover. The text block is loosening from the spine, ...
Featured books from Kristian A. Strom, Bookseller
by
Burroughs, William S.
$200.00
Fine. 0802119263 2009 Grove Press. 50th Anniversary Edition. Also includes a laid in bookplate signed by legendary author William Burroughs, along with an original program from the author's funeral at Liberty Hall in Lawrence, Kansas. Brand new hardcover copy in a protective slipcase, still sealed in original shrinkwrap. "Why has this homosexual ex-junkie, whose claim to fame rests entirely on one book--the hallucinogenic ravings of a heroin addict--so seized the collective imagination? ...
by
Gorman, Lou
$11.75
New. 0786431636 2007 McFarland. Brand New. This clean softcover copy is in excellent condition. The text is unmarked/unread and the binding is sturdy. "Lou Gorman is best known for having assembled the great but star-crossed Red Sox team of 1986. Few, perhaps, know that he also laid the foundation for the Mets club that clawed past them. Or that he is the only baseball executive involved in the start-up of two teams (the expansion Mariners and Royals), that he won a World Series with the ...
---
Genealogical Record of the Dedham Branch of the Avery Family in America more books like this

by Carter, Jane Greenough Avery other copies of this book

Binding: Hardcover Publisher: Press of Avery & Doten Date published: 1/1/0001

Description: Fine. B00086Z7UY A facsimile hardcover reprint of the original 1893 Press of Avery & Doten Edition. 363pp with index and illustrations in black and white. This clean hardcover copy is in excellent condition. The text is unmarked and the binding is sturdy. 100% customer satisfaction guaranteed. We process and ship orders daily. The sale of this book benefits the Salina Public Library. Read More

The Descendants of Thomas and Ann Lee Lewis: a Quaker Family of Blount Co., Tennessee more books like this

by Burkett, Kathryn Lewis other copies of this book

Binding: Paperback Publisher: K.L. Burkett Date published: 1989-01-01

Description: Very Good. B0006EY84E 1989 K.L. Burkett. Scarce and out-of-print 448pp account of the Lewis family and its genealogy, with photographs in black and white and Index. This clean softcover copy has light creasing and marking to the cover and spine; otherwise this book is in excellent condition. The text is unmarked and the binding is sturdy. The previous owner has written the date the book was purchased on the title page. 100% customer satisfaction guaranteed. We process and ship orders daily. Read More

Tales of Aztlan: the Romance of a Hero of Our Late Spanish-American War: Incidents of Interest From the Life of a Western Pioneer and Other Tales more books like this

by Hartmann, George other copies of this book

Edition: Revised Binding: Hardcover Publisher: Broadway Publishing Company Date published: 1908-01-01

Description: Good. B0006AFNCY 1908 Broadway Publishing Company. Good/None. This hardcover copy has light rubbing to the edges of the red cloth pictorial boards. The text is unmarked and the binding is intact, though the rear hinge is splitting. 100% customer satisfaction guaranteed. We process and ship orders daily. Read More

London Sonnets more books like this

by Wolfe, Humbert other copies of this book

Edition: 1st Binding: Paperback Publisher: Basil Blackwell Date published: 1920-01-01

Description: Very Good. B000M2AD6W 1920 Basil Blackwell, 1st Printing. "For Review" is blindstamped on the front cover. This softcover copy has wear to the extremities of the grey wrappers, with part of the title on the spine chipped away. The text is unmarked and the binding is sturdy. 100% customer satisfaction guaranteed. We process and ship orders daily. Read More

Collected Stories more books like this

by Cassill, R. V. other copies of this book

Binding: Paperback Publisher: University of Arkansas Press Date published: 1989-11-01 ISBN-13: 9781557280718 ISBN: 1557280711

Description: New. 1557280711 1989 University of Arkansas Press. Brand new softcover copy, still sealed in the original publisher's shrinkwrap. "A collection of 39 short stories that originally appeared in magazines such as Atlantic, Esquire, Epoch, etc. Besides being a writer, Cassill has edited several Norton anthologies of fiction." 100% satisfaction guaranteed. We process and ship orders daily, securely and with delivery confirmation. Read More

Kingman: a Centennial View more books like this

by Stucky, Tim other copies of this book

Binding: Paperback Publisher: Golden Valley Parks and Recreation Foundation Date published: 1/1/1983

Description: Fine. B0006EE9SO 1983 Golden Valley Parks and Recreation Foundation. Scarce and out of print 91pp volume. This softcover copy is in excellent condition. The text is unmarked and the binding is sturdy. 100% customer satisfaction guaranteed. We process and ship orders daily. Read More

A Century of Misquotations, more books like this

by Dimond, Mary B other copies of this book

Binding: Paperback Publisher: P. Elder and Co Date published: 1906-01-01

Description: Very Good. B00085CCN0 1906 P. Elder and Co. This relatively scarce and slim volume, bound in flexible blue wrappers and enclosed in a slipcase, has some creasing to the covers. The text is unmarked, albeit tanned, and the binding is intact. There is shelf wear to the slipcase. 100% customer satisfaction guaranteed. We process and ship orders daily. Read More

Ade: Who Needed None more books like this

by Matson, Lowell other copies of this book

Binding: Hardcover Publisher: s.n. ] Date published: 1962-01-01

Description: Very Good. B0007FPEXG 1962 Self-Published. Limited to 200 copies. Signed by editor and nephew of George Ade, George Ade Davis to his longtime friend and retired U.S. Congressman and journalist Tom Steed, whose stamp is present on the same page. This hardcover copy has no dustjacket present. The book itself is in excellent condition. The text is unmarked and the binding is sturdy. 100% customer satisfaction guaranteed. We process and ship orders daily. Read More

Kansas Authors of Best Sellers; : a Bibliography of the Works of Martin and Osa Johnson, Margaret Hill McCarter, Charles M. Sheldon, and Harold Bell Wright more books like this

by Degruson, Gene other copies of this book

Binding: Paperback Publisher: Kansas State College of Pittsburg Date published: 1970-01-01

Description: Very Good. B0006D2H20 1970 Kansas State College of Pittsburg. 30pp, bound in stapled wrappers. This softcover copy has light foxing to the cover and text. The text is unmarked and the binding is sturdy. 100% customer satisfaction guaranteed. We process and ship orders daily. Read More
---