Posted September 7, 2015
RH ANTHOLOGY-GOODMAN $6, YK ANTHOLOGY-GOODMAN $6;MOMENTS OF TRANSCENDENCE -ELKINS RH) $10 ;JUSTICE AND MERCY-ARZT-$5.
---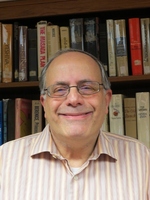 Jewish Book Maven
Judaica Books for all levels; English, Hebrew,(including Seforim and language texts) American Jewish history& communal histories. 24 feet of shelf space devoted to Israel and the M.East.European Jewish history, theology, philosophy,books for children.Sections on Jewish women, OOP fiction,Jewish liturgy/Prayer Books
PERSONALIZED/PROMPT SERVICE/COMPETITIVE PRICES. 1650 volumes online in subject catalogues, primarily Judaica but also general stock. Total collection 2500+ books plus ephemera, music & periodicals.Browseable home store BY APPT/CHANCE: Sundays,some weekdays and evenings; Fridays AM-2 hours prior to sunset. In uptown Albany, 3 hours from NYC, Boston, Montreal-1 hour from Western. Mass/Berkshires. Cash or personal check. Dealer discount on in store sales, varies according to amount of purchase. Sales tax exemption certificate/number required for booksellers. Hebrew gift shops at neighborhood synagogues.
E-mail Jewish Book Maven
Overall Seller Rating:
Alibris seller since June 2001
---
Search for books from Jewish Book Maven Advanced Search
Search 1,825 books from this seller
Spotlight book from Jewish Book Maven tight, unmarked copy, yellowing. 169 p. Includes illustrations. additional section of about 30p of notable topographies/fonts-all in Hebrew, ALL TEXT IN HEBREW, English title page included
Featured books from Jewish Book Maven by
Fuchs, Avraham
$28.00
Good Plus, bright, clean, tight copy. Only marking is library stamp on edge. 4to-over 9¾"-12" tall., 606p, b/w illustrations, index of names by
No Author Listed
$20.00
332p, 6"by4", illustrations see general notes SPECTRUM OF INFORMATION RE PALESTINE AND JEWISH LIFE--CYCLE. SOME PAGES ARE VOCALIZED
---
Artzi: the Palestine Almanac more books like this

by Broido, Ethel, Designer And Editor other copies of this book

Binding: Paperback Publisher: Palestine Pioneer Library, #27,, Eretz Yisrael Date published: 1950

Description: 126p, 7"by5", b/w illustrations, 37 brief articles/stories, some by famous personalities Read More

Mimekor Yisrael: Selected Classical Jewish Folktales more books like this

by Berdichevsky, Micah Joseph (bin Gorion) other copies of this book

Edition: First edition Binding: Hardcover Publisher: Indiana University Press Date published: 1990 ISBN-13: 9780253311566 ISBN: 025331156X

Description: tight copy, no markings. 271 p., decorative boards Audience: General/trade-please see general notes abridged edition of classic work first published in Hebrew-tales from Biblical period to recent centuries. Prepared with introduction and notes by Dan Ben-Amos Read More

Stomping the Goyim more books like this

by Disend, Michael other copies of this book

Edition: First Edition Binding: Cloth Publisher: Croton Press, New York Date published: 1969

Description: tight copy, no markings except for marks. 8vo-over 7¾"-9¾" tall.138p "spaced out kid from Little Newark named faces his draft boared-, and in the process illuminates his generation..." William S Burroughs describes this scarce book as brilliant and highly readable. Read More

Reb Michel's Shmuessen: The Inspiring Ethical Lectures of a Patriarch of Mussar, the Mashgiach of Mesivtha Tifereth Jerusalem more books like this

by Barenbaum, Michel (trans. from the Hebrew by R. Yaakov Blinder and R. Moshe Schapiro) other copies of this book

Edition: First edition Binding: Wraps Publisher: Artscroll Date published: 1996 ISBN-13: 9780899066394 ISBN: 0899066399

Description: bright, clean, tight copy with no markings. Trade paperback (US). Glued binding. 256 p. Ethical discourses on 34 Torah portions and 8 on holidays-part 1 of projected larger work Read More

Sefer Ha-Henukh al TARYAG Mitzvot(Book of the 613 Torah Mitzvot) more books like this

by Ha-Rav Aharon Ha-Levi other copies of this book

Binding: Hardcover Publisher: Eshkol, Jerusalem Date published: 1958

Description: . unmarked, tight copy. 399 p. octavo, heavy maroon binding with gold-lettering, vowelled (pointed) Hebrew, several appendices, including "13 Attributes of God" Read More

Bibliography of Jewish bibliographies more books like this

by Shunami, Shlomo, editor other copies of this book

Language: English Edition: 2d edition enl Binding: Hardcover Publisher: Magnes Press, Hebrew University, Jerusalem Date published: 1965

Description: no markings, tight copy. xxiv, 997, xxii p. 25 cm., important reference work Added t.p. in Hebrew. Prefatory material also in Hebrew. "Corrections": p. 993-997. Supplemented by "Supplement" (xvii, 464, xvi p. 25 cm. ) published: Jerusalem, Magnes Press, Hebrew University, 1975. Call number: Z6366. S52 1965 Suppl. Read More

Constitution: Plotzker Young Men's Independent Association more books like this

Edition: Reprint Binding: Hardcover Publisher: G August Date published: 1929

Description: good source for understanding of landsmenshaften in Americasee above. 70 p. 6"by4"dual language book, scarce, yellowing, tape repair to bindings, a couple of pages have 1" tears Constitution was completed in 1893. 15 members of constitution committee are listed-the revised constitution was completed circa 1929 Read More

Israel Jacobson, The Founder of the Reform Movement in Judaism more books like this

by Marcus, Jacob R. other copies of this book

Edition: Unabridged., 2nd edition, revised Binding: Hardcover Publisher: Hebrew Union College Press Date published: 1972 ISBN-13: 9780878200009 ISBN: 0878200002

Description: notes, index, tight copy, unmarked. 167 p. ONE COPY INSCRIBED COPY TO (PROF) SELIG (ADLER) BY DR. MARCUS Read More

M'Paris L'Yirushalim more books like this

by Zaoui, Andre C other copies of this book

Binding: Paperback Publisher: Menachem Press, Israel Date published: 1984

Description: 8vo-over 7¾"-9¾" tall. 200pgs, Hebrew, with 15pg English summary. Orthodox-trained Rabbi who became a Reform Rabbi in England. Description of his worldwide travels and meetings with leaders. Read More
---