Search for books from Janaway Genealogy Books » advanced search
Search 1,587 books from this seller
Spotlight book from Janaway Genealogy Books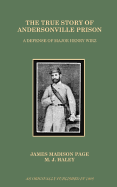 $13.00

add to wishlist
by James Madison Page
-1 jacket. During the Civil War, James Madison Page was a prisoner in different places in the South. Seven months of that time in 1864 was spent at Andersonville. While there he became well acquainted with Major Henry Wirz, or Captain Wirz, as he then was ranked. Page's premise, unpopular at the time of its writing but borne out by history, is that Captain Wirz, the prison warden, was unjustly held responsible for the hardship and mortality of Andersonville. It was his belief that the Union ...
Featured books from Janaway Genealogy Books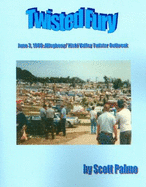 by Scott Palmo
$11.95

add to wishlist
-1 jacket. The author was originally from southwestern Pennsylvania. He still lived there on June 3, 1980 when a storm system came through that produced ten tornadoes. Seven of the ten storms hit southwestern Pennsylvania affecting Allegheny-Kiski Valley communities. The other three hit the surrounding states of Maryland-West Virginia, New Jersey, and Virginia. Scott felt a book should be written to preserve the stories of the survivors and the volunteers. His search for information came up ...
by Debra D. Smith And Frederick S. Weiser
$39.95

add to wishlist
New -1 jacket. Complete and accurate church records including baptisms, marriages, communicants, confirmands, and pew rents. Relevant Moravian records are included in the appendix of Volume 1. Some of the history of Trinity is given as it relates to the records. 1988, cloth, index, 578 pp. Hard Cover.
---
Schuylkill County, Pennsylvania Archives. Volume I more books like this

by Phillip A. Rice And Jean A. Dellock other copies of this book

Binding: Softcover Publisher: Closson Press Date published: 1996 ISBN-13: 9781558561823 ISBN: 155856182X

Description: New -1 jacket. For those of you who are familiar with Schuylkill County Vital Statistics, this book in no way duplicates those books. If that series were to be continued, this volume would be Volume 5. This much needed continued series of archival records for this coun. (1996), index, 81/2x11, paper, 560 pp. Soft Cover. read more

A History of Old Tioga Point and Early Athens: [Bradford County, Pennsylvania] more books like this

by Louise Wells Murray other copies of this book

Edition: Illustrated. Binding: Hardcover Publisher: Closson Press Date published: 2003 ISBN-13: 9781558563902 ISBN: 1558563903

Description: -1 jacket. Old Tioga Point is a peninsula formed by the Susquehannah and Tioga Rivers, located in Athens Township, Bradford County. Athens Township is bound by the state of New York, east by Litchfield Township, south by Orwell, Wyalussing, Sheshequin, Ulster and S. (1908), 2003, 6x9, cloth, 698 pp. Hard Cover. read more

Tenmile Country and Its Pioneer Families more books like this

by Howard L. Leckey other copies of this book

Binding: Hardcover Publisher: Closson Press Date published: 1997 ISBN-13: 9781558563438 ISBN: 1558563431

Description: -1 jacket. A genealogical history of the Upper Monongahela Valley. Thousands of biographies of early families of southwest Pennsylvania and northern Virginia (present day West Virginia). Military information, census records, oaths, and much more. New surname index. Back by popular demand. (1950), 1997, 6x9, cloth, index, 677 pp. Hard Cover. read more

Alsatian Connections, Volume I more books like this

by Doris Wesner other copies of this book

Edition: Unabridged. Binding: Hardcover Publisher: Closson Press Date published: 1995 ISBN-13: 9781558561854 ISBN: 1558561854

Description: New -1 jacket. Alsace is a close neighbor of the Rhein Pfalz. Many early families trace their ancestry to this area. The author has selected five villages in "Krumme Elsace" or "Hilly Alsace, " consulted church and civil records, and referred to Cornelia Schrader-Muggen. 1995, 6x9, cloth, index, 474 pp. Hard Cover. read more

Baden Emigration Book more books like this

by Cornelia Schrader-Muggenthaler other copies of this book

Binding: Hardcover Publisher: Closson Press Date published: 1992 ISBN-13: 9781558561076 ISBN: 1558561072

Description: New -1 jacket. An enumeration of 7, 000 18th and 19th century emigrants from Baden and Alsace to America alphabetically listed in two sections. It contains never before published records of the General Lands Archives in Baden. Includes the name, place of origin (birth place), birth year, and emigration date, and the source. Followed by a listing of all records of villages in Baden that have been microfilmed by the Church of Jesus Christ of Latter-Day Saints and are available for research ... read more

Tombstone Inscriptions St. John's Lutheran and Reformed Cemetery St. John's (Formerly Hughesville) more books like this

by Norm Drasher And Peggy Drasher other copies of this book

Edition: Unabridged. Binding: Softcover Publisher: Closson Press Date published: 1993 ISBN-13: 9781558561168 ISBN: 1558561161

Description: New -1 jacket. These tombstone inscriptions cover the early 1800s through Oct. 1992. 1993, 81/2x11, paper, 202 pp. Soft Cover. read more

Monroe County, West Virginia Abstracts more books like this

by Larry G. Shuck other copies of this book

Edition: Unabridged. Binding: Softcover Publisher: Closson Press Date published: 1996 ISBN-13: 9781558562233 ISBN: 1558562230

Description: -1 jacket. If you're seeking information on Deeds (1799-1817), Wills (1799-1829), or Simís Land Grant Index (1780-1862) for this county, this is the place to look. Many think deeds are only a transfer of land from a grantor to grantee, but in genealogy it is so much more. They note the presence of a possible census readings (with neighbors included). They normally name the grantorís wife; many times they include families (settlements), siblings and their spouses, parents, neighbors, a new ... read more

Fayette Co., West Virginia Marriages, 1832-1853 and 1865-1903 more books like this

by Larry G. Shuck other copies of this book

Binding: Softcover Publisher: Closson Press Date published: 1995 ISBN-13: 9781558562035 ISBN: 1558562036

Description: New -1 jacket. Close to 8, 000 marriages from the Marriage Record Books of the Fayette County courthouse. Alphabetically listed by male, it includes names of bride and groom, date of marriage, race, age, place of birth, name of parents, etc., followed by an excellent everyname index to brides, etc. 1995, 81/2x11, paper, 315 pp. Soft Cover. read more

Bern Church Record, Bern Township, Berks County, Pennsylvania, 1739-1835 more books like this

by Schuylkill Roots other copies of this book

Edition: Unabridged. Binding: Softcover Publisher: Closson Press Date published: 1989 ISBN-13: 9781558560321 ISBN: 1558560327

Description: New -1 jacket. The book used to extract these records had been rebound. The title page was missing, thus, it was impossible to determine if the record is complete. About 400 baptismal entries plus inscriptions from the tombstones in the burial grounds at Bernville of those persons born prior to the year 1801 (including a few special cases showing persons born years later). Arranged alphabetically. 1989, 81/2x11, paper, index, 39 pp. Soft Cover. read more
---