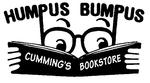 Humpus Bumpus Books
E-mail Humpus Bumpus Books
Overall Seller Rating:
Alibris seller since February 2013
---
Search for books from Humpus Bumpus Books Advanced Search
Search 2,765 books from this seller
Spotlight book from Humpus Bumpus Books
Fair. No Jacket. 16mo-over 5¾"-6¾" tall. Book is in Fair condition with dark green boards. Some warping, darkening and light soiling to textblock. Foxing occurs throughout book. Moderate edgewear. Moderate bumping to board corners and head/tail of spine that has caused fraying. Fading to spine. Front pastedown endpaper has antique bookplate. Front free endpaper has gift inscription. Front hinge is slightly cracked. Back hinge has a tiny crack and back pastedown endpaper has what appears to be ...
Featured books from Humpus Bumpus Books
by
James Baldwin
$85.00
Very Good. No Jacket. Uncorrected Proof. 8vo-over 7¾"-9¾" tall. UNCORRECTED PROOF in red wraps. Book condition is Very Good. There is a raised area on front and back wrap near spine that looks like it was caused by the way book was printed. Some fading to spine. Wraps covered in clear plastic mylar. Book comes with two pieces of paper from publisher describing book, release date, etc. 125 pgs.
by
Edwin Eastman
$30.00
Poor. No Jacket. 8vo-over 7¾"-9¾" tall. REBOUND hardcover book of 1873 first edition. Book is in Poor condition. Scuffing occurs along top and bottom edges of panels. Severe foxing throughout book. Brown stains from water damage on some pages, causing slight warping. Fore edge of book is darkened and slightly stained. One of the back flyleafs has a list of notes and numbers written in graphite along with someone's name. A name is also written in graphite on the last page of text. Book is ...
---
'a' is for Alibi more books like this

by Sue Grafton other copies of this book

Edition: First UK Edition Binding: Hardcover Publisher: Macmillan London Limited, London Date published: 1986 ISBN-13: 9780333417782 ISBN: 033341778X

Description: Very Good in Very Good jacket. 8vo-over 7¾"-9¾" tall. Signed by Author SIGNED by AUTHOR on title page. First UK edition. Book is in Very Good condition. Pages are slightly yellowed from time. Small white mark on front panel. Otherwise clean and tight. Dustjacket is in Very Good condition with no tears or chips. Dj wrapped in clear plastic mylar. 191 pgs. Read More

In My Father's House more books like this

by Ernest J. Gaines other copies of this book

Edition: First Edition Binding: Hardcover Publisher: Knopf, New York Date published: 1978 ISBN-13: 9780394479385 ISBN: 0394479386

Description: Very Good in Very Good jacket. 8vo-over 7¾"-9¾" tall. First Edition. Book is in Very Good condition with navy blue panels and gold lettering along spine. Dustjacket is in Very Good condition with a small closed tear at top of spine and minor nicking. Back cover of dj has slight darkening. A beautiful and tight copy. Read More

Of Love and Dust more books like this

by Ernest J. Gaines other copies of this book

Edition: First Edition Binding: Hardcover Publisher: The Dial Press, New York Date published: 1967

Description: Very Good in Good jacket. 8vo-over 7¾"-9¾" tall. First Edition with gray panels and black lettering along spine. Book is in Very Good condition with slight darkening to panel edges and a small light brown stain on bottom edge of back panel. Very slight darkening to fore edge. Slight cocking to spine. Dustjacket is in Good condition with slight scuffing on tail of spine. Dj spine has a couple of very small closed tears and the color of dj has become faded by sun exposure in some areas (more ... Read More

No More Vietnams more books like this

by Richard Nixon other copies of this book

Edition: First Edition Binding: Hardcover Publisher: Arbor House, New York Date published: 1985 ISBN-13: 9780877956686 ISBN: 0877956685

Description: Very Good in Very Good jacket. 8vo-over 7¾"-9¾" tall. Signed by Author SIGNED by AUTHOR. Book is in Very Good condition with blue panels and gold lettering on spine. Light bumping to head/tail of spine. Otherwise clean and tight. Dustjacket is in Very Good condition with fading on spine, two small chips on tail of spine and three tiny black marks on back cover. Dj is wrapped in clear plastic mylar. 240 pgs. Read More

Fear of Flying more books like this

by Erica Jong other copies of this book

Edition: First Edition Binding: Hardcover Publisher: Holt, Rinehart and Winston, New York, Chicago, San Francisco Date published: 1973 ISBN-13: 9780030107313 ISBN: 0030107318

Description: Very Good in Good jacket. 8vo-over 7¾"-9¾" tall. Signed by Author SIGNED by AUTHOR on title page. This book also comes with a separate "Free Preview Chapter of Fear of Flying" booklet that is SIGNED on the cover by author. The booklet is in Fair condition with some creasing and warping on back page, ink smears from water damage on second to last page. The book is in Very Good condition with light blue panels and red lettering on spine. Slight fading along top and bottom edges of panels and ... Read More

Navajo Taboos more books like this

by Ernie Bulow other copies of this book

Edition: First Edition Binding: Hardcover Publisher: Buffalo Medicine Books, New Mexico Date published: 1991

Description: Ernest Franklin. Very Good in Very Good jacket. 8vo-over 7¾"-9¾" tall. Signed by Author SIGNED by AUTHOR, ILLUSTRATOR (Ernest Franklin) and by Tony Hillerman on front free endpaper. Book is in Very Good condition with light bumping to head of spine. Light bowing to front board. Dustjacket is in Very Good condition with minor wear. Dj is wrapped in clear plastic. A clean tight copy. 216 pgs. Read More

Collected Poems more books like this

by James Joyce other copies of this book

Binding: Hardcover Publisher: The Viking Press, New York Date published: 1937

Description: Fair in Poor jacket. 8vo-over 7¾"-9¾" tall. 1937 publication, The Viking Press. Book is in Fair condition with brown spots along spine, yellowed pages and front/back pastedown endpapers have glue from printing showing through. Red panels with gold lettering on spine, Viking ship emblem embossed on front panel. Dustjacket is in Poor condition with darkening on spine. Dj spine has major chipping at top/bottom and severe rubbing along spine. Dj cover has chipping along top and nicks along bottom ... Read More

Little Big Man more books like this

by Thomas Berger other copies of this book

Edition: First Edition Binding: Hardcover Publisher: The Dial Press, New York Date published: 1964

Description: Fair in Fair jacket. 8vo-over 7¾"-9¾" tall. Book is in Fair condition with tan patterned panels with black spine and gilt lettering. Previous owner's name written in blue ink on front free endpaper. Moderate soiling to textblock. Light edgewear. Light to moderate bumping to board corners and head/tail of spine. Spine has light cocking. Hinges feel a bit weak. Dustjacket is in Fair condition with light to moderate wear. Chipping along head/tail of dj spine, along with small closed tears. Fading ... Read More

In the Heart of the Arctics more books like this

by Nicholas Senn other copies of this book

Edition: First Edition Binding: Decorative Cloth Publisher: W. B. Conkey Company, Chicago Date published: 1907

Description: Good. No Jacket. 8vo-over 7¾"-9¾" tall. Signed By Author's Mother SIGNED by AUTHOR'S MOTHER on front pastedown (see photo). Book condition is Good with green boards and gilt design. Front board has faint stain on corner. Spine has light bumping to head/tail and two small white stains. Two bumped spots along bottom edges of boards. Small faint stain on back board. Some bowing to front board. Small brown stains on pg 15. Back hinge is slightly cracked. No jacket. Book is wrapped in clear plastic. ... Read More
---