Search for books from Gorgias Press LLC » advanced search
Search 1,597 books from this seller
Spotlight book from Gorgias Press LLC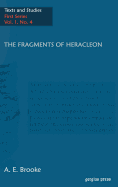 $95.00

add to wishlist
1-59333-279-3 in 2004 jacket. Only fragments survive of the writings of the Valentinian Gnostic teacher Heracleon (fl. 145-180 AD). The remnants can be found primarily in quotations in Origen's commentary on the Gospel of John. This study gives an edition of the surviving texts with extensive notes, biblical references, and indices. This volume is indispensable for the study of second century Gnosticism.
Featured books from Gorgias Press LLC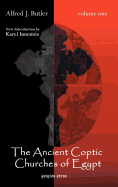 by Volume 1
$97.50

add to wishlist
1-59333-280-7 in 2004 jacket. This two volume book is the result of seven months of field work in Egypt. It is an important document for its time and an early and influential example of unprejudiced scholarly interest for the culture of the Coptic Church.
by Before The Year 1550
$153.10

add to wishlist
978-1-61143-605-1 in 2011 jacket. A. C. Moule presents here a survey of the sources for Christianity in China prior to 1550 in order to construct a history of Christianity in China prior to the modern missions of the sixteenth century.
---
New Egypt more books like this

other copies of this book

Edition: 6 x 9 Binding: Softcover Publisher: 1, Paperback Date published: 66 ISBN-13: 9781931956659 ISBN: 1931956650

Description: 1-931956-65-0 in 2002 jacket. Amedee Baillot de Guerville was one of the most talented women travel writers at the turn of the last century. His New Egypt, translated from French, is a remarkable record of Egyptian life; social, economic, and political, during that period. read more

Mount Sinai more books like this

by A Modern Pilgrimage other copies of this book

Edition: 6 x 9 Binding: Kiraz Historic Travels Archive 22 Publisher: 1, Hardback Date published: 56598 ISBN-13: 9781607242437 ISBN: 1607242435

Description: 978-1-60724-243-7 in 2010 jacket. This timeless travelogue by noted hymnographer and missionary A. Mary R. Dobson recounts her journey to the manuscript-rich monastery of St. Catherine's in the Sinai peninsula. Traveling with her cousin, Orientatlist Rendel Harris, Dobson wrote an account of her journey that still captures the imagination of modern day readers. read more

Under the Syrian Sun more books like this

by The Lebanon, Baalbek Galilee, And Judaea other copies of this book

Edition: 6 x 9 Binding: Hardcover Publisher: 2, Hardback Date published: 309 ISBN-13: 9781593331405 ISBN: 1593331401

Description: 1-59333-140-1 in 2004 jacket. Under the Syrian Sun is a fascinating travelogue of a journey to Lebanon, Syria, and Palestine during the nineteenth century, by a woman writer, A. Cunnick Inchbold. The two volumes include illustrations by the watercolorist Stanley Inchbold (born in London in 1856). read more

Bar Hebraeus's Book of the Dove more books like this

by Together With Some Chapters From His Ethikon other copies of this book

Edition: 8.25 x 10.75 Binding: Syriac Studies Library 194 Publisher: 1, Hardback Date published: 58296 ISBN-13: 9781611433692 ISBN: 161143369X

Description: 978-1-61143-369-2 in 2011 jacket. A. J. Wensinck presents an English translation of Gregory Bar Hebraeus's Book of the Dove and select chapters from the Ethikon. read more

The Rise of Romanesque Sculpture more books like this

other copies of this book

Edition: 6 x 9 Binding: Analecta Gorgiana 217 Publisher: 1, Paperback Date published: 56855 ISBN-13: 9781607244462 ISBN: 1607244462

Description: 978-1-60724-446-2 in 2009 jacket. Porter explains the sudden appearance of Romanesque sculpture in the 12th century AD by suggesting an origin in the sculpture of Lombardy. read more

Introduction of Gothic Architecture Into Italy By the French Cistercian Monks more books like this

other copies of this book

Edition: 6 x 9 Binding: Analecta Gorgiana 267 Publisher: 1, Paperback Date published: 56794 ISBN-13: 9781607244967 ISBN: 1607244969

Description: 978-1-60724-496-7 in 2009 jacket. This series of papers shows that a group of monuments erected by the French Cistercian monks, and here for the first time fully described and illustrated, were the earliest Italian buildings using transitional-Gothic architecture. read more

Grammar of the Dialects of Vernacular Syriac more books like this

other copies of this book

Edition: 6 x 9 Binding: Hardcover Publisher: 1, Hardback Date published: 201 ISBN-13: 9781593330187 ISBN: 1593330189

Description: 1-59333-018-9 in 2003 jacket. The primary grammatical reference for the Neo-Aramaic dialects "spoken by the Eastern Syrians [modern Assyrians & Chaldeans] of Kurdistan, North-West Persia, and the Plain of Mosul, " includes notices of the dialects of the Jews of Azerbaijan & Zakhu. read more

India and the Apostle Thomas more books like this

by An Inquiry With A Critical Analysis Of The Acta Thomae other copies of this book

Edition: 6 x 9 Binding: Hardcover Publisher: 1, Hardback Date published: 123 ISBN-13: 9781593331801 ISBN: 1593331800

Description: 1-59333-180-0 in 2005 jacket. Did St. Thomas visit India or is the story a legend? Medlycott provides the answer using archeological and patristic sources. read more

Manuel De La Cosmographie Du Moyen Age more books like this

by Traduit De L'Arabe other copies of this book

Edition: 6 x 9 Binding: Kiraz Chronicles Archive 22 Publisher: 1, Hardback Date published: 55842 ISBN-13: 9781593335885 ISBN: 1593335881

Description: 978-1-59333-588-5 in 2008 jacket. A fine example of Arabic science, Shams ed-Din abu-Abdullah Muhammad al-Dimashqi's Cosmography has almost been forgotten by the Western world. Translated into French by A. F. Mehren, this important historical text will now be widely available. read more
---