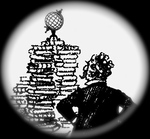 Global Booksearch and Sales
Stocking & selling quality books at fair prices since 1972.
From great reads to rare tomes, you will enjoy purchasing books from Global Booksearch! We keep prices low with minimal overhead. The packaging is without compromise. Our personal commitment to a tiny carbon footprint is met by careful recycling & reuse of shipping materials collected from shop keepers in Amador City, California. Each order is HAND CARRIED to the Post Office six days a week, so not one drop of gasoline is used on the first leg of your order's journey. We continue to be privileged to ship books to all readers: children, scholars, entrepreneurs, students, school & university libraries + research institutions. Thanks for your orders, and a special thank you to all who return to purchase from us again and again!
E-mail Global Booksearch and Sales
Overall Seller Rating:
Alibris seller since November 2005
---
Search for books from Global Booksearch and Sales Advanced Search
Search 7,480 books from this seller
Spotlight book from Global Booksearch and Sales
Several engravings of selected Napoleonic Marshals. Very good. No dust jacket. This is a near Fine volume for its age. Only the first 4 pages show foxing. Some light edge foxing, barely noticeable. Binding tight, corners moderately rubbed, light edgewear. Gold on spine and front cover with light fading. 720 p. Hardback w/o dj, 5 1`/2 x 8 1/2", Quite RARE and unusual to find. As of this listing, this is the ONLY original printing available in the world wide used book market. The condition is ...
Featured books from Global Booksearch and Sales
by
Reage, Pauline
$78.95
Very good. No dust jacket. This VG paperback has a nearly new text block with even toning, light cover wear, scrunch to bottom of spine. 179 p. 4 1/4 x 7 1/4", 4 chapters. Spine is without any printing, "hiding" the name of the book. Very few copies of this particiular printing are available. Story of O is an erotic novel published in 1954 about dominance and submission by French author Anne Desclos under the pen name Pauline Réage. Desclos did not reveal herself to be the author until four ...
by
Likes, Robert C., and Day, Glenn R.
$46.95
Fine. No dust jacket. Small, barely perceptible indent marks on the covers. All else, including photographs and text block as NEW. 5 1/2 x 8 1/2", 5 Chapters, filled with maps, diagrams and photographs. 86 p. Very rare to find this book well priced!
---
Queen Mary's Dolls' House more books like this

by Stewart-Wilson, Mary other copies of this book

Edition: First edition. Stated First Edition. Binding: Hardcover Publisher: Abbeville Press, New York, NY Date published: 1988 ISBN-13: 9780896598768 ISBN: 0896598764

Description: Photographs by David Cripps. New in fine dust jacket. This NEW condition hb has a dj that shows slight edgewear, almost no rubbing. Photograph is specific to this listing. Hardback w/unclipped dj. 8 3/4 x 11 3/4". 21 Chapters + Bibliography. Filled with crisp close up photographs of this most magnificent doll house.191 p. Well priced copies in this condition are becoming hard to find. Read More

Cooking in Wyoming Woman's Suffrage Centennial Editon

by Harshman, Marvin other copies of this book

Edition: Stated Third Edition. Binding: Hardcover Publisher: Wyoming Trading Company, Mills, Wyoming. Date published: 1965

Description: Wyoming Centennial Edition, 1990, South Pass City 1869-1969. New. No dust jacket. This spiral bound bo0k appears to be completely unused! 208 p. 6 x 8 1/2", 10 unnumbered Chapters. Illustrations at the beginning of each chapter. Very rare in any condition. In pristine gift condition most unusual! Read More

by Jones, Gomer, and Wilkinson, Bud other copies of this book

Binding: Hardcover Publisher: Prentice-Hall, Englewood CLiffs, N.J. Date published: 1957

Description: New in very good dust jacket. Most unusual to find a book of this type and age in NEW condition. DJ with tears closed w/acid free tape, light edgewear. 5 1/2 x 8 1/4", 20 Chapters + Index. Filled with diagrams and 21 b/w photographs. 273 p. Rare, rare, rare! Read More

Legend of a road A Witness to the exploraatiion and emigration on the road above Silver Lake and Beyond.

by Somerville, June Wood other copies of this book

Edition: Fourth Edition, December 2008. Binding: Hardcover Publisher: Self published. AUTHOR SIGNED. Date published: 2008

Description: Contains sketches and photographs by the author. New. No dust jacket. Signed by author. Cover shows a tendency to flare, noted in the custom photograph. Binding tight, text block as NEW. 165 p. Paperback book, 5 1/2 x 8 1/4", 10 Chapters, many photographs of this historic California area. Fascinating retelling of the early days of this historic California area, including a lot of material on Kirkwood. Book is virtually unknown in the used book market. Read More

How to Fish Good: Fearless Facts about Lying, Cheating, Thieving, Poaching & Other Ancient and Honorable Piscatorial Practices more books like this

by Poltroon, Milford S. other copies of this book

Edition: Unabridged, believed to be the first original printing. Binding: Trade paperback Publisher: Winchester Press, New York. Date published: 1971 ISBN-13: 9780876910511 ISBN: 0876910517

Description: Very good. This VG hb would have been rated higher but for light cover wear. Text block as NEW. First edition. 6 x 8, filled with highly humorous illustrations oriented around all aspects of fishing. 128 pages. This book is a ROMP, terribly funny parody on fishing and its enthusiasts! Read More

Airbrush: The Complete Studio more books like this

by Vero, Radu other copies of this book

Edition: Revised from the earlier 1983 edition. Binding: Trade paperback Publisher: Watson-Guptill Publications, New York, NY Date published: 1997 ISBN-13: 9780823001699 ISBN: 0823001695

Description: New. This is a NEW condition paperback book. No expense was spared in printing this paperback, 8 1/4 x 11", 3 Parts, 15 Chapters. Fully illustrated with diagrams, illustrations and photographs. 192 p. This copy is priced for the art student to acquire as part of art school or self taught training. It would make a fantastic present for a budding artist. Read More

Uncarved Block, Unbleached Silk: The Mystery of Life more books like this

by Watts, Alan W other copies of this book

Edition: First edition. Believed to be a first edition Binding: Trade paperback Publisher: A&W Visual Library Date published: 1978 ISBN-13: 9780891041023 ISBN: 0891041028

Description: Photographs and introcuction by Jeff Berner. Fine. This fine condition pb would have been rated new but for light edgewear. Text block as NEW. 9 x 10 1/2", filled with photographs and calligraphic text. 107 p. Well priced copies in gift giving condition are very hard to find. Read More

Gold Fever The Art of Panning and Sluicing more books like this

by De Lorenzo, Lois other copies of this book

Edition: 15th Edition. Binding: Trade paperback Publisher: Gem Guides Book Company Date published: 2008 ISBN-13: 9780935182002 ISBN: 0935182004

Description: New. 5 1/4 x 8 1/2", filled with maps and diagrams. 80 p. Read More

Scavullo Nudes more books like this

by Peltason, Ruth A (Editor), and Scavullo, Francesco (Photographer), and Hudson, Judith (Editor) other copies of this book

Edition: Not paginated, believed the first edition, no printers line. Binding: Hardcover Publisher: ABRAMS, New York, NY Date published: 2000 ISBN-13: 9780810941953 ISBN: 0810941953

Description: Fine. No dust jacket. This fine condition hardback would have been rated new but for slight cover rubbing.... First edition. 6 1/4 x 9 3/4". Fully illustrated with the photographers most famous works.128 p. Well priced, excellent condition copies are very hard to find. Read More
---