Collector Bookstore
Collector Bookstore is a leading specialty retailer of price guides and reference books to inform and educate collectors and professionals in the antiques and collectors markets. Our customers include individual collectors, dealers, appraisers, auctioneers & other industry professionals. We buy most titles directly from the publisher; this ensures our price guides are the most recent. Because our stock is always fresh, you won't receive heavily thumbed shelf copies from us! Authors are encouraged to submit their reference titles for our consideration.

Overall seller rating:
Alibris seller since February 2008
---
Search for books from Collector Bookstore » advanced search
Search 2,295 books from this seller
Spotlight book from Collector Bookstore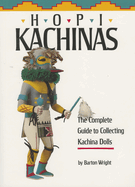 $13.46

add to wishlist
by Barton Wright
New. To the Hopi, kachinas are the spirit essence of everything in the real world. In this highly readable and informative book you'll find a comprehensive guide to Hopi kachina dolls, including buying tips.
Featured books from Collector Bookstore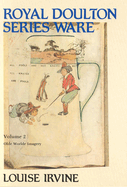 by Louise Irvine
$27.00

add to wishlist
New. Royal Doulton Series Ware Book 2 is the second on the subject of Series ware, the name applied to an assortment of decorative and practical items, such as plates, vases or jugs, which are printed with popular imagery. This volume continues the study of a now flourishing collecting field recording all the series depicting Olde Worlde Imagery.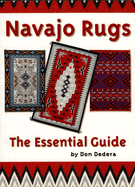 by Don Dedera
$14.35

add to wishlist
New. For twenty-one years Navajo Rugs has been the essential text for anyone interested in this fascinating art form. This second revised edition includes up-to-date photographs of all the major rug styles, a concise discussion of the history of the art, an outline of the process of making rugs from raising the wool to weaving it, and frank discussions on how to choose and care for quality rugs.
---
Godden's Guide to Ironstone, Stone & Granite Wares more books like this

by Geoffrey A. Godden other copies of this book

Edition: 1999 edition Binding: Hardcover Publisher: Antique Collectors' Club Ltd Date published: 1999 ISBN-13: 9781851492787 ISBN: 185149278X

Description: Good in new dust jacket. This is the first book to be devoted to British Ironstone China and the related stone china and granite ceramic bodies. This important and wide-ranging Godden's Guide follows and complements the acclaimed Godden's Guide to Mason's China and the Ironstone Wares, explaining the rise and development of British ironstone china and the related stone china and granite wares. Chapters are devoted to Mason's Patent Ironstone China and the large auction sales of surplus stock ... read more

A Collector's History of English Pottery, 5th Edition more books like this

by Griselda Lewis other copies of this book

Edition: 1999 edition Binding: Hardcover Publisher: ACC Distribution Date published: 1999 ISBN-13: 9781851492916 ISBN: 1851492917

Description: New in new dust jacket. Griselda Lewis provides a comprehensive overview of pottery in England from earliest times to the late twentieth century. She gives invaluable information on the distinguishing attributes of the many different styles of pottery manufacture, from slip ware to studio pottery as well as of the different factories from the well known, such as Wedgwood, to the lesser known. She also offers an overall perspective of the development of pottery styles and techniques over the ... read more

The Colours of Murano in the XIX Century more books like this

by Arsenale & Junck other copies of this book

Edition: 1999 edition Binding: Softcover Publisher: Arsenale Date published: 1999 ISBN-13: 9788877432643 ISBN: 8877432640

Description: New. This book features some of the best examples of 19th century Murano glass. Characterized by abundant decorative detail, sophisticated elaboration, and exaggerated technical virtuosity, these works exemplify glassmaking at its best. Over 150 color plates are supplemented by essays covering Murano history, materials, and reproductions from contemporary catalogues, making The Colours of Murano in the XIX Century both beautiful and informative. read more

Pocket Edition Jackson's Hallmarks more books like this

by Ian Pickford other copies of this book

Edition: 1991 edition Binding: Softcover Publisher: ACC Distribution Date published: 1991 ISBN-13: 9781851491698 ISBN: 1851491694

Description: This pocket sized book is based on the new, revised edition of Jackson's Silver and Gold Marks of England, Scotland, and Ireland, published in 1989. Ian Pickford, the editor, has selected over 1, .000 makers whose work is of especial interest: some because they made fine work that is undervalued, others because they are of historical interest; a few because their work should be avoided. Complete cycles of silver marks are given for all the important assay offices, with variations shown for gold ... read more

Derby Porcelain 1748-1848, an Illustrated Guide more books like this

by John Twitchett other copies of this book

Edition: 2002 edition Binding: Hardcover Publisher: ACC Distribution Date published: 2002 ISBN-13: 9781851492121 ISBN: 1851492127

Description: New in new dust jacket. This new book contains a good deal of new information and a large quantity of hitherto unpublished illustrations. Much of the documentary evidence is also published for the first time and a good deal of further material is included to be made available to a far wider readership. The author deals comprehensively with the Nottingham Road, Derby factory, its staff and its wares with detailed biographies on anyone and everyone connected with production and sales during the ... read more

English Furniture 1660-1714 From Charles II to Queen Anne more books like this

by Adam Bowett other copies of this book

Edition: 2002 edition Binding: Hardcover Publisher: ACC Distribution Date published: 2002 ISBN-13: 9781851493999 ISBN: 1851493999

Description: New in new dust jacket. English Furniture describes the development of fashionable English furniture between the restoration of Charles II in 1660 and the death of Queen Anne in 1714. Based largely on contemporary documents and on original and firmly documented furniture, together with the latest modern scholarship, it provides a closely-reasoned analysis of changing furniture styles, together with much technical information on materials and processes. The authors radical new approach to the ... read more

Frames and Framings more books like this

by Timothy Newberry other copies of this book

Edition: 2002 edition Binding: Hardcover Publisher: Ashmolean Museum Date published: 2002 ISBN-13: 9781854441751 ISBN: 1854441752

Description: This book aims to provide specialist information about frame history and design, combined with an appreciation of the subtle relationship between pictures and their frames, and a sense of the importance of the picture frame in the history of art as a whole. Frames fulfill a variety of functions, from the protective to the decorative; they can indicate ownership or they can assert the importance of the paintings they enclose. In their shape and ornamentation, frames are linked to architectural ... read more

Southwestern Pottery: Anasazi to Zuni more books like this

by Allan Hayes And John Blom other copies of this book

Edition: 2003 edition Binding: Softcover Publisher: Northland Publishing Date published: 2003 ISBN-13: 9780873586566 ISBN: 0873586565

Description: New. SOUTHWESTERN POTTERY may be the most entertaining book you read this year. It's an art book, a history book, and a reference book that is fun to read and beautiful to look at. Showing more than eleven hundred pots, there isn't a more complete Southwestern pottery guide: One hundred and forty color photographs show, as nearly as possible, "one of each: ' Tracing the art from its beginnings almost two thousand years ago to the present and showing pieces from every pottery-producing tribal. ... read more

Victorian China Fairings the Collectors Guide more books like this

by Derek H. Jordan other copies of this book

Edition: 2003 edition Binding: Hardcover Publisher: AntiqueCC Date published: 2003 ISBN-13: 9781851494460 ISBN: 1851494464

Description: New in new dust jacket. Fairings were definitely made for the huge English Fair market. The word fair comes from the Latin feria meaning holiday, a great day for the masses, a chance to catch up on gossip, fashions, new ideas and generally to have a good time and perhaps buy or win a small china ornament. Today we call these small German ornaments of the Victorian/ Edwardian period, Fairings. This comprehensive work is the definitive guide for the novice and experienced collector of fairings, ... read more
---