Burrowing Bookworm of CA
I focus heavily on film, Egyptian archeology, aviation and mystery books but you never know what will interest me next. Shop around and you may find science fiction, nature photography, field guides, bad 50's monster videos....you name it and it may be here!
You might consider it old-fashioned but my philosophy towards family, friends, strangers and customers is one and the same and based on only one concept,the Golden Rule. Yep, the old "do unto others" conviction. Works for me. So that means my policy for customers is quite basic. Do your best to keep folk happy. If you're not, neither am I. That means I don't quibble about refunds when something isn't right and I try to be as accurate and fast as possible. I am also an avid reader/film buff myself so I gear my offerings towards what I'm interested in. And since I have very eclectic and far-ranging interests, my selections seem to veer in every direction. Hopefully you'll find something in my listings that works for you!

Overall seller rating:
Alibris seller since October 2010
---
Search for books from Burrowing Bookworm of CA » advanced search
Search 1,435 books and 506 movies from this seller
Spotlight book from Burrowing Bookworm of CA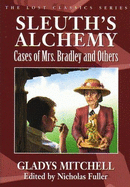 $25.00

add to wishlist
by Mitchell, Gladys, and Fuller, Nicholas (Editor)
Very good. Pages are clean & unmarked; spine is tight; covers show only the lightest edge wear at tips but also have a sl. flare outward at top and bottom edges of front cover. Trade paperback (US). Glued binding. 193 p. The Lost Classics Series. Audience: General/trade. Put out by a publisher specializing in releasing the short story collections of classic mystery writers, this one is a gem. The author in her time was noted as "one of the big three women detective writers" and this short story ...
Featured books from Burrowing Bookworm of CA
by Queen, Ellery (editor)
$12.50

add to wishlist
Very good in good dust jacket. Inner pages clean & unmarked; bottom/ fore edges have light marks; slight spine slant; boards show bumping at spine, otherwise in great shape; DJ shows sm. scrape on front, multiple tiny scrapes on back & light edge wear. Sewn Binding; cloth over boards; 288 pages; Audience: General/Trade As the title suggests, these are a dozen short mystery tales by Japanese authors, the top writers in their country, which were translated to English so that the western world ...
by Crispin, Edmund
$15.00

add to wishlist
Very good. No dust jacket as issued. Pages are clean and unmarked; binding is tight; covers look great except for one tiny mark on front. Trade paperback (US). Glued binding. 221 p. Penguin Contemporary American Fiction Series. Audience: General/trade. If Oxford professor Gervase Fen is involved you know you will have his eccentric fun mixed with a devilish case to solve. So this book gives you 26 short stories, with a case a piece. What more could you want?
---
Man of Two Tribes: A Detective-Inspector Napolean Bonaparte Mystery more books like this

by Upfield, Arthur W other copies of this book

Edition: Collier Books ed. Binding: Trade paperback Publisher: Collier Books Date published: 1986 ISBN-13: 9780020259503 ISBN: 0020259506

Description: Very good. Inner pages are very clean & unmarked except for 2 tiny spots on 1st page; fore edge shows a faint smudge; binding is tight; covers like new. Trade paperback (US). Glued binding. Audience: General/trade. In this great edition to the series, Australian half-aboriginal police detective "Bony" Bonaparte sets off across the Australian desert with just two camels and a dog, in search of a missing woman. read more

Beasts of Eden: Walking Whales, Dawn Horses, and Other Enigmas of Mammal Evolution more books like this

by Wallace, David Rains other copies of this book

Binding: Trade paperback Publisher: University of California Press Date published: 2005 ISBN-13: 9780520246843 ISBN: 0520246845

Description: Very good. No dust jacket as issued. Inner pages pristine; bottom edge has a few tiny spots; binding is tight; covers look great. Trade paperback (US). Glued binding. 340 p. Contains: Illustrations. Audience: General/trade. Covers fascinating details of the mysteries of the mammalian paleontological world. Includes the always amusing stories of the feuds and fighting between two of her most notorious "bone hunters", Cope and Marsh. But there are so many more stories and even non-paleontology ... read more

They Fought in the Creature Features: Interviews with 23 Classic Horror, Science Fiction, and Serial Stars more books like this

by Weaver, Tom other copies of this book

Edition: Illustrated. Binding: Hardcover Publisher: McFarland & Company Date published: 1995 ISBN-13: 9780786400195 ISBN: 0786400196

Description: Fine. No dust jacket as issued. Pristine pages; tight binding; covers are in great shape; like new. Library binding. Paper over boards. 318 p. Contains: Illustrations. Audience: General/trade. When the first photo you see is one with actress Julie Adams shaking hands with the Creature from the Black Lagoon, you know this one is going to be a good one. Great for film buffs who want inside stories of some of the shows considered worthy of the title "Creature Features". read more

Tarzan Finds a Son! more movies like this

Richard Thorpe other copies of this item

Format: VHS Studio: MGM Date: September 1, 1998 UPC: 027616306036

Description: Johnny Weissmuller, Maureen O'Sullivan, Johnny Sheffield, Ian Hunter, Henry Stephenson, Laraine Day. Run time: 90 mins. Originally released: 1939. From a private collection, this VHS tape is in great shape. The box cover shows rubbing at bottom edge and a slight separation at bottom join. As with all my Tarzan tapes there are places on the back cover and sides which look like very light soil but I now suspect are part of the design of the cover since they are consistently in the same place ... read more

Ben Hecht other copies of this item

Format: VHS Studio: Columbia Pictures

Description: Douglas Fairbanks Jr., Rita Hayworth, Thomas Mitchell, John Qualen. Run time: approx 80 min. Originally released: 1940. Language: English. This fine black and white VHS drama garnered writer, director and producer Ben Hecht an Academy Award nomination in 1940. The tape and cover are in great condition, from a private collection, with only the most minimal rubbing on edges of cover. read more

The Town That Died: A Chronicle of the Halifax Disaster more books like this

by Bird, Michael J. other copies of this book

Edition: First Paperback Edition Binding: Trade paperback Publisher: McGraw-Hill Ryerson Ltd Date published: 1967 ISBN-13: 9780770060152 ISBN: 0770060153

Description: Very good. No dust jacket as issued. Pages are clean & unmarked except for 1st page which has 1 tiny spot; binding tight; minimal rub to edges of covers; price sticker on back cover, front cover's fore edge slants upward a bit. Glued binding. Trade paperback. 192 p. Includes illustrations. Audience: General/ trade. On 6 Dec 1917 two ships, one of them loaded with high explosives, collided in Halifax harbor. Considered to be the greatest disaster ever to happen to Canada and the greatest man ... read more

Gardening Naturally: A Guide to Growing Chemical-Free Flowers, Vegetables, and Herbs more books like this

by Reilly, Ann other copies of this book

Binding: Hardcover Publisher: Better Homes and Gardens Books Date published: 1993 ISBN-13: 9780696000393 ISBN: 0696000393

Description: Fine in fine dust jacket. Pristine pages & tight binding; in excellent shape. Sewn binding. Paper over boards. 192 p. Audience: General/trade. Gardening Books. If you prefer to garden without using pesticides, etc then this is the book for you. Covers the care of not only vegetables and herbs but also flowers. Abundantly filled with color photos. read more

The Bad Seed more movies like this

Mervyn LeRoy other copies of this item

Format: VHS Date: May 3, 1993 UPC: 085391134237

Description: Nancy Kelly, Patty McCormack, Henry Jones, Eileen Heckart, Evelyn Varden. Run time: 129 mins. Originally released: 1956. Language: English. From a private collection, this VHS tape is in excellent condition. It's box cover looks near fine too, with only a slight bump to one bottom corner. The film itself is a classic, about a sweet, innocent looking little girl who has absolutely no moral compass and kills coolly and efficiently to get whatever she desires. read more

Jacques Tourneur other copies of this item

Format: VHS Studio: RKO Radio Pictures UPC: 053939562262

Description: Dennis O'Keefe, Margo, Jean Brooks, Isabel Jewell, James Bell. Run time: 66 mins. Originally released: 1943. Language: English. From a private collection, this VHS tape and it's box cover are in great shape, like new. This classic black and white film is a hard one to find and concerns what folks think is a mysterious man-beast stalking young women. read more
---