Search for books from The Bookpress Ltd Advanced Search
Search 5,138 books from this seller
Spotlight book from The Bookpress Ltd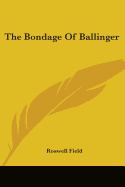 FIELD, Roswell. THE BONDAGE OF BALLINGER. Chicago: Fleming H. Revell Company, 1903. 12mo. Cloth. Frontispiece, 214, (1 pages. First edition. A fictional story about a man with a love of books, who moves to the American South to open a bookstore and goes into bankruptcy. We emphasize that this i fiction (hopefully). Tip of spine chipped as well as in center; edges of boa also chipped and priced accordingly.
Featured books from The Bookpress Ltd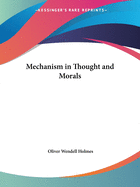 by
Holmes, Oliver Wendell
$125.00
HOLMES, Oliver Wendell. MECHANISM IN THOUGHT AND MORALS. Boston: James R. Osgood & Co., 1871. 12mo. Publisher's cloth. 101 pages. Fir edition. Being an address before the Phi Beta Kappa Society of Harvard University, Jun 29, 1870. Newsclipping attached to first front free endpaper, signatures in pencil on first and second front free endpapers, some cover wear, front hinge internally cracked.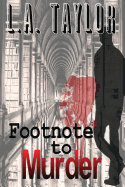 by
Taylor, L. A
$9.50
(BIBLIOMYSTERY) TAYLOR, L.A. FOOTNOTE TO MURDER. New York: Walker and Company, (1983). 8vo. Cloth, dust jacket. 180 pages. Fi edition. A librarian, researching true-crime books, uncovers a pattern in several seemingly unrelated murders--a pattern that implicates her employer and his s with whom she is romantically involved. Very good.
---
Dred; a Tale of the Great Dismal Swamp. Two Volumes more books like this

by Stowe, Harriet Beecher other copies of this book

Binding: Hardcover Date published: 1856

Description: STOWE, Harriet Beecher. DRED; A TALE OF THE GREAT DISMAL SWAMP. Two volumes Boston: Phillips, Sampson and Company, 1856. 12mo. Publisher's blindstamped cloth. 329, (7); 370 pages. First edition. [Wright 2.2391]. Dred...followed the publication of Uncle Tom's Cabin, and it also received w acclaim from abolitionists; one hundred thousand copies of this anti-slavery book were sold in England in less than a month. Some cover wear, minor foxin both hinges of Volume II internally cracked, front hinge ... Read More

Die Romanische Portalarchitektur in Der Provence more books like this

by Bernoulli, Rudolf other copies of this book

Binding: Paperback Date published: 1906

Description: BERNOULLI, Rudolf. DIE ROMANISCHE PORTALARCHITEKTUR IN DER PROVENCE. Strassburg: Heitz & Mundel, 1906. 4to. Wrappers. viii, 86, (1) pages. First edition. Bernoulli focuses on Romanesque doorways found in Provence, with illustration Unopened, uncut. Short tear on lightly marked, front cover, else very good. Read More

Delle Lettere Familiari Del Commendatore Annibal Caro more books like this

by Seghezzi, Anton Federigo other copies of this book

Date published: 1742

Description: (CARO) SEGHEZZI, Anton Federigo. DELLE LETTERE FAMILIARI DEL COMMENDATORE ANNIBAL CARO. Three volumes. Padua: Giuseppe Comino, 1742. 16mo. Contemporary calf. First edition. [Brune V, 30735]. Letters of the sixteenth-century Italian poet, Annibal Caro. Each volume contains an engraved title page, Volume I also includes a portrait of Caro. Very good. Read More

Baukunst Und Dekorative Plastik Der Fruhrenaissance in Italien more books like this

by Baum, Julius other copies of this book

Binding: Hardcover Date published: 1920

Description: BAUM, Julius. BAUKUNST UND DEKORATIVE PLASTIK DER FRUHRENAISSANCE IN ITALIEN Stuttgart: Julius Hoffmann, 1920. 4to. Cloth spine, boards. xxxi, (i), 302, pages. First edition. Italian plasterwork of the 15th and 16th century is documented with 467 illustrations. Light edge wear. Rubberstamp on a few leaves, spine slightly shaken, else very good. Read More

Villas and Cottages a Series of Designs... more books like this

by Vaux, Calvert other copies of this book

Binding: Hardcover Date published: 1857

Description: VAUX, Calvert. VILLAS AND COTTAGES A SERIES OF DESIGNS PREPARED FOR EXECUTIO IN THE UNITED STATES. New York: Harper & Brothers, 1857. 8vo. Publisher's cloth. Frontispiece, (vi 318 pages, 1 color plate. [Hitchcock, 1307]. Vaux, an Englishman, came to America about 1850 to work with A.J. Downing; he later worked with Frederick Law Olmstead on his winning design for New York City's Central Park and as consulting architect for the project. The color plate is an advertisement with six specimens of ... Read More

Gothic Architecture more books like this

by Branner, Robert other copies of this book

Binding: Hardcover Date published: 1961

Description: BRANNER, Robert. GOTHIC ARCHITECTURE. New York: George Braziller, 1961. 8vo. Cloth spine, boards, dust jacket. 125 (3) pages. First edition. A concise analysis of Gothic architecture, with 104 photographs. Very good i torn dust jacket, some underlining. Read More

Die Kunstdenkmaler Der Stadt Koln.... more books like this

by Clemen, Paul other copies of this book

Binding: Hardcover Date published: 1980

Description: CLEMEN, Paul. DIE KUNSTDENKMALER DER STADT KOLN....Dusseldorf: L. Schwann, (1980). 8vo. Cloth. x, 336 pages, 10 plates. First edition, thus. A reprint of the original 1929 edition which was published in the Die Kunstdenkmaler der Rheinprovinz series, with contributions by Hans Vogts and Fritz Witte; 195 in-text illustrations. Very good. Read More

Famous Colonial Houses more books like this

by Hollister, Paul M other copies of this book

Binding: Hardcover Date published: 1921

Description: Preston, James. HOLLISTER, Paul M. FAMOUS COLONIAL HOUSES. Philadelphia: David McKay Company, 1921. Small folio. Cloth, top edge gilt. Frontispiece, 170 pages, 11 plates. First edition. With an introduction by Julian Street, and color illustrations by James Prest Hollister tells tales of colonial homes in which early American history was made. Some edge wear, else fine. Read More

Sulgrave Manor and the Washingtons.... more books like this

by Smith, H. Clifford other copies of this book

Binding: Hardcover Date published: 1933

Description: SMITH, H. Clifford. SULGRAVE MANOR AND THE WASHINGTONS....New York: Macmillan, 1933. 8vo. Cloth. Frontispiece, 259, (1) pages, 15 plat First American edition. With a foreword by Viscount Lee of Fareham, being a history and guide to the tudor home of George Washington's ancestors; illustrated. Minor foxing on early leaves, covers slightly rubbed, else very good. Read More
---