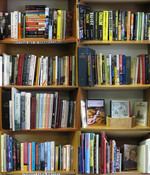 The Book Case
809 Blackstone Rd Suite A, Connellsville, PA 15425 USA
724-628-9181
Directions to The Book Case
We carry books in many categories, specializing in mysteries, history and the various types of metaphysical studies, ranging from new age and spirituality to religion. Local history, children's books, cookbooks and audiobooks are also among our strengths.
The Book Case takes great care in selection of inventory, almost entirely in Very Good or better condition. We package with care, generally with cardboard and bubble wrap, often in a box. Feel free to request a box or provide any special instructions, such as in the case with a gift item. We strive to answer any questions and emails immediately.
E-mail The Book Case
Overall Seller Rating:
Alibris seller since February 2005
---
Search for books from The Book Case Advanced Search
Search 3,608 books from this seller
Spotlight book from The Book Case
Previous owner's name stamp to front endpaper, else very clean, untanned, binding is very tight. Board edges have some wear, small splits on the front. Jacket has moderate edgewear, rubbing, small chips, faint dampstaining to spine ends. Flap price of $3.00 intact. First printing. Forbidden Planet is based on the MGM Cinemascope and color production of the same name, starring Walter Pidgeon, Anne Francis and Leslie Nielsen. Screenplay written by Cyril Hume, from the story by Irving Block and ...
Featured books from The Book Case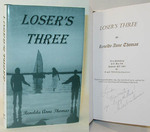 by
Thomas, Renelda Anne
$20.00
Very Good+ in Very Good+ jacket. Excellent condition overall, one faint soil mark is on the top page edge. The dustjacket has a touch of rubbing. 179 pp. The last page, a title page/dedication page is inscribed 'Linda, Nice meeting you. Enjoy the book! Renelda Anne Thomas. ' "This is a powerful love story that centers around a male character that uses a pen and paper as his outlet, to release his feelings and express what he needs to say to the one he loves. "
by
Devault, Ileen A.
$11.95
Very Good+ in Very Good+ jacket. 6.5" x 9.25" 194 pp. Book is clean, straight and tight. Bottom edge has a black remainder dot. The dustjacket has just a little rubbing. "Between 1870 and 1920, the clerical sector of the U.S. economy grew more rapidly than any other. Sons and Daughters of Labor reassesses the existence and significance of the 'collar line' between white-collar and blue-collar occupations during this period of clerical work's greatest expansion and the beginning of its ...
---
Milldust and Roses: Memoirs more books like this

by Smith, Larry other copies of this book

Binding: Trade Paperback Publisher: Ridgeway Press, Roseville, MI Date published: 2002 ISBN-13: 9781564391148 ISBN: 1564391140

Description: Very Good. Signed by Author Second printing. 5.5" x 8.25" 149 pp. Signed by the author on the title page-Best to you, Larry Smith. Covers have a little edgewear, pages are lightly fanned. Binding is still quite tight. "Milldust and Roses is a beautiful tapestry, the substance of which describes an Ohio Valley working-class family from the mid-century onward. Smith is an accomplished poet, teacher, and biographer. But these memoirs are not about his life as a poet, but about the metamorphosis of ... Read More

Breakfast on Pluto more books like this

by McCabe, Patrick other copies of this book

Binding: Hardcover Publisher: Harper Flamingo Date published: 1998 ISBN-13: 9780060193409 ISBN: 0060193409

Description: 2nd printing. Pages are clean, binding is extremely tight, tiny bit of wear on lower text edge. Dustjacket has just the slightest edgewear. Signed by the author on the title page. With wonderful delicacy and subtle insight and intimation, McCabe creates Mr. Patrick 'Pussy' Braden, the enduringly and endearingly hopeful hero(ine) whose gutty survival and yearning quest for love resonate in and drive the glimmering, agonizing narrative in which the Troubles are a distant and immediate echo and ... Read More

What's a Coal Miner to Do: the Mechanization of Coal Mining more books like this

by Dix, Keith other copies of this book

Binding: Hardcover Publisher: University of Pittsburgh Press Date published: 1988 ISBN-13: 9780822935858 ISBN: 0822935856

Description: Near new condition, very clean and tight. Jacket has minor rubbing, minimal edgewear. 1988 hardcover, ISBN 0-8229-3585-6. Dix carefully reconstructs the social, political, technical and economic environment of the handloading era. With archival photographs, diagrams, and detailed descriptions, he reviews the development of coal technology, including the career of Joseph Joy, whose pioneering inventions changed the course of the industry and created a major corporation. Read More

Oogie Boogie Central more books like this

by Lukac, M. Stephen other copies of this book

Edition: 2nd ed. Binding: Trade Paperback Publisher: Medium Rare Books, Anaheim, CA Date published: 2003 ISBN-13: 9780971116283 ISBN: 0971116288

Description: Very Good. Binding is tight, book is very clean, slight wear to covers. Signed by author. First printing. 267 pp. The title page is signed-To Debbie, Thanks for reading, Listen to who's in your head. M. Stephen Lukac. Read More

Miss Malarkey's Field Trip more books like this

by Finchler, Judy; O'Malley, Kevin other copies of this book

Edition: First Edition Binding: Hardcover Publisher: Walker & Co. Date published: 2004 ISBN-13: 9780802789129 ISBN: 0802789129

Description: O'Malley, Kevin. Very Good+ in Very Good jacket. Signed by Illustrator First printing. Dustjacket has minor shelf wear, a few small light creases. Binding is in excellent condition, pages are just lightly thumbed. The book is inscribed by Kevin O'Malley, to Claire, on the back of the front endpaper. The signature includes a drawing of a cartoon character face and covers the whole page. Read More

The Flight of the "Ville D'Orleans" more books like this

by Cohn, Ernst M. other copies of this book

Binding: Hardcover Publisher: The Collectors Club of Chicago Date published: 1978

Description: Near Fine. Few tiny marks on slipcase, tiny bit of wear to spine ends. Pages are unmarked, solid like new binding. 175 p. Includes three fold-out pages, detailing 'The Balloons of the Siege of Paris, ' including owners, pilots, passengers, cargo, time, date, place. The major subject of this book is the sequence of events, from November 24 to December 8, 1870, that befell the occupants of the mail balloon 'La Ville D'Orleans', their cargo and equipment. Despite its venerable age, the subject has ... Read More

Madhur Jaffrey's Far East Cookery more books like this

by Jaffrey, Madhur other copies of this book

Binding: Trade Paperback Publisher: BBC Books Date published: 1989 ISBN-13: 9780563213642 ISBN: 0563213647

Description: Very Good. Signed 'Madhur Jaffrey' on the half title page. Light shelf wear to covers, minor edge scuffing. Spine is uncreased, binding is very tight. Based on the television series. Far Eastern Cookery is a celebration of the myriad and exotic flavours of the Far East and a personal collection of over 150 of her own favourite dishes from Thailand, Japan, Korea, Hong Kong, The Philippines, Malaysia, Vietnam, and Indonesia. Jaffrey evokes the atmosphere of each country as she invites us to ... Read More

Darkness at Foxglove Corners more books like this

by Bodoin, Dorothy other copies of this book

Edition: Five Star ed. Binding: Hardcover Publisher: Five Star Date published: 2001 ISBN-13: 9780786234868 ISBN: 0786234865

Description: Fine in Near Fine jacket. Rear of jacket is rubbed. Book is clean as new, extremely tight binding, possibly unread. 328 pp. In the aftermath of a tornado that damages her house, Jennet Greenway and her dog, Halley, move to rural Foxglove Corners. After a stressful year of teaching, she enjoys her new surroundings. Jennet forms an instant bond with her nearest neighbor, Camille Forester. But Camille's private life is about to unravel. Read More

Walk Two Moons (Abridged Audiobook on Cassette) more books like this

by Creech, Sharon; Masterton, Mary Stuart (Performed By) other copies of this book

Edition: Abridged. Binding: Audiobook Publisher: Harper Children's Audio Date published: 1998 ISBN-13: 9780694700516 ISBN: 0694700517

Description: Very Good. Box has light edgewear. Tapes are rewound, were tested, and play perfectly. Abridged on 2 cassette tapes, approx. 3 hours playing time. Winner of the 1995 Newbery Medal. "'How about a story? Spin us a yarn. ' Instantly, Phoebe Winterbottom came to mind. 'I could tell you an extensively strange story, ' I warned. 'Oh, good! ' Gram said. 'Delicious! ' And that is how I happened to tell them about Phoebe, her disappearing mother, and the lunatic. As Salamanca Tree Hiddle entertains her ... Read More
---