Posted April 24, 2015
I was listening to an interview with a writer of many books whose son had told him, "Dad, younger people don't read anymore, we like visual things like film, etc." Oh, how wrong he is, I hope. Because people who don't read and learn....
---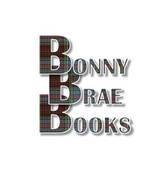 Bonny Brae Books
Collections, in addition to Theology, are Biography and Autobiography, Fiction, Crafts, Ethics, English history and literature, Historical Novels, Mysteries, Music and Art, Psychology, American history and literature, plus many books about WWII, Japanese literature, culture and history; I have many books in the Japanese language. My Music items are LP s, on Japanese vinyl, all in Fine condition and ranging from Avant garde to Punk rock, from Duane Allman to Arbeit Macht Frei.
I love books, I like to read them, collect them, organize them, repair them, and now, at age 80, I've started selling them, the entire library. My husband was a Baptist minister and missionary for 60 years so many books are theological in nature; however, we both majored in Science so our inventory is quite varied. We lived in Japan for 22 years and have a great interest in Japan, its culture and history.Many of my books were published before the age of ISBN's and some are rare and collectible; many are first editions. I try to write clearly about the condition of the books, since many are quite old.
E-mail Bonny Brae Books
Overall Seller Rating:
Alibris seller since May 2010
---
Search for books from Bonny Brae Books Advanced Search
Search 1,867 books, 8 movies, and 93 music items from this seller
Spotlight book from Bonny Brae Books
Good No dust jacket as issued. 467 p. : map; 18 cm. Includes Maps. Originally published as "Lighter than a feather. " "A Bantam book. " "Q7313. " Map by Noel I. Diaz.
Featured books from Bonny Brae Books
by
Levinson, Daniel J, and Darrow, Charlotte N, and Klein, Edward B
$4.99
Very good. No dust jacket as issued. Trade paperback (US). Glued binding. 363 p. Contains: Illustrations. Audience: General/trade.
by
MacLennan, David A.
$6.99
Very good in fair dust jacket. Very clean, no underlining, owner's name stamped on end paper and title page. 157 p. "Pastoral Preaching" will help all ministers, whether veteran or novice, realize ever more deeply the great potential that belongs alone to the pulpit.
---
The Complete Book of Flowers and Plants for Interior Decoration more books like this

by Wheeler, Esther and Lasker, Annabel Combs other copies of this book

Binding: Hardcover Publisher: Hearthside Press, New York Date published: 1969

Description: Porto, Janet. Very good in only Fair dust jacket. dust jacket has been mended with artists tape. the book is in fine condition. 205 p. Includes: illustrations, index. A treasure of drawings, pictures, illustrations and information for apartments, homes, living spaces that could use some interior decoration with beautiful and healthy plants and flowers. Read More

The Spirituality of Gentleness: Growing Toward Christian Wholeness more books like this

by Lechman, Judith other copies of this book

Edition: First edition Binding: Hardcover Publisher: HarperCollins Publishers Date published: 1987 ISBN-13: 9780060652210 ISBN: 0060652217

Description: Fine in good dust jacket. Stain at top of dust jacket, otherwise very good. Sewn binding. Paper over boards. 184 p. Audience: General/trade. In a world of terrorism, television violence, and alienation, Judith Lechman calls us back to a central Christian virtue--the gift of strong gentleness, a gift that is not always appreciated or understood. Read More

Getting to Yes, Negotiating Agreement Without Giving In more books like this

by Fisher, Roger, and Patton, Bruce M, and Ury, William L other copies of this book

Binding: Hardcover Publisher: Houghton Mifflin Harcourt (HMH) Date published: 1981 ISBN-13: 9780395317570 ISBN: 0395317576

Description: Very good in very good dust jacket, but with some underlining the the first chapters. Sewn binding. Cloth over boards. 163 p. Audience: General/trade. Read More

The Complete Book of Patio Gardening more books like this

by Kramer, Jack other copies of this book

Edition: Book Club Edition Binding: Hardcover Publisher: G.P. Putnam's /Sons, New York Date published: 1970

Description: Very good in fair dust jacket; DJ has fraying on spine, previous owner's name on title page. 192 p. Includes: illustrations, diagrams, index, bibliography. An authoritative guide that answers all your questions about designing, building, and planting your patio Read More

In Good Hands: The Keeping of a Family Farm more books like this

by Fish, Charles, and Turner, Philip (Editor) other copies of this book

Binding: Trade paperback Publisher: Kodansha Globe Date published: 1996 ISBN-13: 9781568361475 ISBN: 1568361475

Description: Fine condition. Trade paperback (US). Glued binding. 229 p. Kodansha Globe. Audience: General/trade. A memoir, a dairy, a story of life on a farm told by a storyteller and full of the memories, daily tasks, joys and sorrows of the keeping of a family farm. a great read. Read More

The Best of Will Rogers: A Collection of Rogers' Wit and Wisdom Astonishingly Relevant for Today's World more books like this

by Sterling, Bryan, and Rogers, Will other copies of this book

Edition: Reprint Binding: Trade paperback Publisher: M. Evans and Company Date published: 1990 ISBN-13: 9780871316318 ISBN: 0871316315

Description: Very good. would be Fine except for bottom right corner has small crease; good have been dropped. Trade paperback (US). Glued binding. 244 p. Audience: General/trade. Read More

Churchill, in Memoriam more books like this

by New York Times Staff other copies of this book

Binding: Trade paperback Publisher: A Bantam book, published simultaneously in U.S. and Canada Date published: 1965

Description: photographs by Yousuf Karsh of Ottawa, Canada. Very good. No dust jacket. 160 p. Includes illustrations. the Coat-of-Arms on the back cover by permission of His Grace the Duke of Marlborough. His wit, wisdom, and his death. Written and edited by the staff at the New York Times. a unique presentation. Great photos. Read More

The Mind's Sky: Human Intelligence in a Cosmic Context more books like this

by Ferris, Timothy other copies of this book

Edition: First Printing Binding: Hardcover Publisher: Bantam, New York, NY Date published: 1992 ISBN-13: 9780553080407 ISBN: 0553080407

Description: Fine in fine dust jacket. Sewn binding. Cloth over boards. Audience: General/trade. Looks new. Read More

Men of the High Calling more books like this

by Neider, Charles editor other copies of this book

Binding: Hardcover Publisher: Abingdon Press, Nashville, TN Date published: 1954

Description: Good. No dust jacket. the previous owner's name is crossed out with a black marker on one endpaper. 238 p. Sewn binding, blue cloth over boards. Audience: General/trade A gem of a book, containing: "The Bishop's Beggar" by Stephen Vincent Benet; "Dean Harcourt" by Lloyd C. Douglas; "The Stickit Minister" by S. R. Crockett; "The Blue Cross" by G. K. Chesterton; "The Three Hermits" by Leo Nikolaevich Tolstoy; "Tit for Tat" by Sholom Aleichem; "The Making of a Minister" by J. M. Barrie; "The Third ... Read More
---