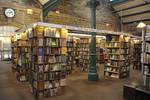 Barter Books Ltd
Alnwick Station, Alnwick, Northumberland, NE66 2NP GBR
+44 (0)1665 604888
Directions to Barter Books Ltd
One of the largest secondhand bookstores in Britain. Situated in a magnificent former railway station of Victorian grandeur with over 300,000 books in stock on 3 miles of shelves, Complete with the Station Buffet and miniature trains running round above the bookshelves. Described as 'The British Library od Secondhand Bookshops' by the 'New Statesman'.
E-mail Barter Books Ltd
Overall Seller Rating:
Alibris seller since March 2002
---
Search for books from Barter Books Ltd Advanced Search
Search 42,102 books from this seller
Spotlight book from Barter Books Ltd
G: in Good condition with rubbed and chipped dust jacket. Some foxing. Previous owner inscription on fep. 200mm x 150mm (8" x 6"). xi, 460pp. Colour frontis. Jean Lang here describes the rich history and legend of the Scottish Borders, illustrated by the atmospheric paintings of Tom Scott. In addition to the familiar topics of the Romans on the Borders and Border Feuds and Battles, Lang also has fascinating chapters on Border Wizards and Saints.
Featured books from Barter Books Ltd
by
Macaulay, Thomas Babington; Firth, Charles Harding [Ed. ]
$205.25
VG: in very good condition without dust jacket. Some spotting to page ends. 260mm x 190mm (10" x 7"). 3105pp. Colour and b/w plates and maps.
by
Pixley, Francis W
$32.19
G: in good condition without dust jacket. Damage to top and tail of spine. Previous owner inscription to fep, and title page. Book plate to front paste down. 227mm x 163mm (9" x 6"). xiii, 335pp. The title of Baronet was established by James I in 1611. The author claims this to be the first history of the hereditary title and dedicates the book to Sir Charles H. Stuart Rich, Fourth Baronet of Shirley and founder of the Honourable Society of the Baronetage. Pixley challenges such common ...
---
Local Records [Volume 2 1866]: Historical Register of Remarkable Events in Northumberland, Durham, Newcastle and Berwick Upon Tweed. 1800-1832 more books like this

by Fordyce T; Sykes, John other copies of this book

Edition: New Edition Binding: Green hardback cloth cover Publisher: T Fordyce, Newcastle upon Tyne Date published: 1866

Description: In worn condition without dust jacket. Loss to spine. Boards rubbed and marked. Some browning within. Pages untrimmed. 240mm x 160mm (9" x 6"). 415pp. Newcastle upon Tyne published history. Read More

Local Records [3 Volumes 1857-1866] Or, Historical Register of Remarkable Events Which Have Occurred in Northumberland, Durham, Newcastle and Berwick-Upon-Tweed. 3 Volume Set. Non-Uniform. [Ad 80-1799; 1800-1832; 1832-1857] more books like this

by Sykes, John; Latimer, John other copies of this book

Edition: Reprint Binding: Quarter purple cloth with marbled card covers Publisher: T. Fordyce, Newcastle Date published: 1857, 1866

Description: G +: in Good [plus] condition without dust jacket. Modern rebind with paper labels on spines and new eps. First two volumes have marbled edges. NB third volume, although bound in the same style, is 1cm taller than the first two. Boards rubbed with... 230mm x 140mm (9" x 6"). 416pp; 415pp; 420pp. Numerous Wood engravings. Volumes 1 and 2 are the second edition published in 1866. Volume 3 is the first edition from 1857. Read More

The Trial of Queen Caroline in the House of Lords on Charges of Adulterous Intercourse. 2 Volume Set more books like this

by Caroline, Queen other copies of this book

Edition: First Edition Binding: Marbled board cover with half calf. Gilt back panels Publisher: Thomas Kelly, London Date published: 1821

Description: Worn condition. Covers rubbed & marked. Outer hinges cracking (one front board almost detached). Some distortion to Vol I spine edge. Loss to corners of pp.423-432. Some staining & foxing. Contents in G condition. 220mm x 130mm (9" x 5"). 664pp; 720pp. various b/w engravings. This unusual, contemporary two-volume set describes the famous trial of Queen Caroline, wife of George IV, on a charge of adultery. It is taken verbatim from the journals of the House of Lords, where the trial was held, ... Read More

History, Directory and Gazetteer of the Counties of Durham and Northumberland and the Towns and Counties of Newcastle-Upon-Tyne and Berwick-Upon-Tweed. Volume I more books like this

by Parson, William; White, William other copies of this book

Edition: First Edition Binding: Leather cover Publisher: W White & Co, Newcastle upon Tyne Date published: 1827

Description: Cover worn and detached. Spine missing. Contents split from spine into several sections. Some scattered light foxing otherwise contents bright. 180mm x 100mm (7" x 4"). xii, 504pp. Volume I includes Histories and Directories of Newcastle, Durham and Northumberland and Directories of Berwick-upon-Tweed with Tweedmouth, Borough of Richmond, Yorkshire and Market Town of Yarm. Read More

The History of England. 3 Volume Set more books like this

by Hume, David & Smollett, Tobias & Farr, Edward (Intro. By Rev.H. Stebbing) other copies of this book

Edition: Reprint Binding: Half leather on board cover. Panelled spine Publisher: George Virtue, London Date published: [1850]

Description: Covers worn but sound. Volume I hinges weak-binding tight. Some foxing internally. Bookplate of previous owner on ep of all 3 volumes with inscriptions. 280mm x 180mm (11" x 7"). 918pp; 600pp; 864pp. b/w steel engravings. London published history. Read More

A Series of Picturesque Views of Seats [Vol 2] of the Noblemen & Gentlemen of Great Britain & Northern Ireland (Vol II) more books like this

by Morris, F O other copies of this book

Edition: Reprint Binding: Brown hardback cloth cover with gilt decoration Publisher: William Mackenzie, London Date published: [1880]

Description: G-: in Good (minus) condition without dust jacket. Inner hinges cracked. Endpapers browned. 280mm x 230mm (11" x 9"). iv, 80pp. Illustrated frontispiece, title page and numerous chromolithogrphic plates. Frontis plate of Alnwick castle. Read More

Lawson's Tyneside Celebrities: Sketches of the Lives and Labours of Famous Men of the North more books like this

by Lawson, William other copies of this book

Edition: First Edition Binding: Red decorative hardback cloth cover Publisher: Lawson, Newcastle-upon-Tyne Date published: 1873

Description: G: in Good condition without dust jacket. Corners and spine ends edgeworn. Occasional light foxing. 190mm x 130mm (7" x 5"). 387pp + plates. Read More

A Short History of the English People. 4 Volume Set more books like this

by Green, John Richard other copies of this book

Edition: Illustrated edition Binding: Red gilt-embellished hardback cloth cover Publisher: Macmillon, London Date published: 1907

Description: G: in good condition without dust jacket. Closed tears to some page edges. Occasional marginal ink spots. 155mm x 180mm (6" x 7"). 1906pp. Numerous colour and black and white plates; additional engravings in text. London published history. Read More

The History of the Decline and Fall of the Roman Empire. Volume V Only more books like this

by Gibbon, Edward other copies of this book

Edition: Reprint Binding: Fawn hardback cloth covers Publisher: Thomas Nelson & Peter Brown, Edinburgh Date published: 1831

Description: Worn condition. Cover rubbed. Spine missing. 230mm x 150mm (9" x 6"). vii; 428oo. The son of a country gentleman, Gibbon's first recorded instinct to write The Decline and Fall of the Roman Empire was in 1764. By 1772, his father had left him the means to settle in London and devote himself to this great task. It was originally published in 5 volumes in 1776 (vol. I), 1781 (vols. I and II) and 1788 (vols. III-V). This is part of a 12 volume set. Read More
---