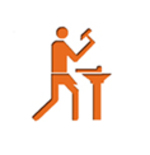 Artisan North America
We have a large selection of new books and DVDs in: BLACKSMITHING, KNIFEMAKING, JEWELRY MAKING, METAL ART & COPPERSMITHING, METALWORKING & MACHINING, LEATHERWORKING , WOODWORKING, METALWORKING for AUTOS & MOTORCYCLES. Here to the left are 4 menu options. The last one is: "Search Artisan North America by catalog". Click on that to find the subject areas which interest you. They will appear here below. Then click on one subject area and the books and DVDs in that catalog will appear here below.
Here at Artisan you will find outstanding books and DVDs for professionals, apprentices, and serious hobbyists. Each month we continue to add useful and hard-to-find items from foreign and American publishers and manufacturers. All of our items are NEW. Many of our books and DVDs are from small publishers and are not available in most bookstores. Others we have in exclusive distribution for North America. Whatever your profession or interest, you'll be happy with our excellent selection.
E-mail Artisan North America
Overall Seller Rating:
Alibris seller since March 2007
---
Search for books from Artisan North America Advanced Search
Search 867 books and 325 movies from this seller
Spotlight book from Artisan North America
New in new dust jacket. A new concept in all-color books; a system-wide examination of the New York Centrals stations, towers, shops, signals, yard structures, bridges and many more miscellaneous parts of the roads physical plant. A valuable book for both Railfan and model railroader alike! Introduction, pp. 3-7; Passenger Stations and Terminals, pp. 8-57; Freight Houses, pp. 58-62; Towers, pp. 63-72; Bridges, pp. 73-81; Signals, pp. 82-91; Yards, pp. 92-101; Engine Facilities, pp. 102-108; ...
Featured books from Artisan North America
by
Robert J. Yanosey
$59.95
New in new dust jacket. Penn Central Power, Morning Sun Book's first title, is reprinted in a special 25th Anniversary limited run released on November 15, 2012 in anticipation of a new series entitled Penn Central Power In Color, which began in 2013 and picked up where the original left off. The original Penn Central Power was vastly different from the typical MSB format to which readers have become accustomed. Instead of being in all color, that first Penn Central Power (and this reprint) is ...
by
Robert J. Yanosey
$49.95
New in new dust jacket. Follow the Standard Railroad of the World as it winds its was west from Exchange Place and the Hudson River to Mackinaw City, Michigan and theGreat Lakes. This 128-page all-color book looks at Pennsy's diverse fleet of diesels featuring everything from GE 44 tonners to PAs and Geeps. Hardcover with jacket, 128 pages, 8.5 x 11 x.5 in", all color photographs with captions.
---
Seaboard Air Line Color Guide to Freight and Passenger Equipment more books like this

by Paul Faulk other copies of this book

Edition: 1992nd edition Binding: Hardcover Publisher: Morning Sun Books Date published: 1998 ISBN-13: 9781582480015 ISBN: 158248001X

Description: New in new dust jacket. The railroad that ran 'Through the Heart of the South' was known as an innovator and effective competitor against its two larger neighbors. The attractive equipment of the Seaboard was no small part in this battle. Enjoy this varied roster in the more than 300 color photographs of this railroad which disappeared in 1967. Contents: Office Cars, pg. 6; Head End Passenger, pp. 7-14; Combines, pp. 15-16; Coaches, pp. 17-24; Diners, pp. 25-29; Observation Cars, pp. 30-31; ... Read More

Chicago & North Western Official Color Photography more books like this

by Gene Green other copies of this book

Binding: Hardcover Publisher: Morning Sun Books Date published: 1999 ISBN-13: 9781582480022 ISBN: 1582480028

Description: New in new dust jacket. The C&NW was a major railroad of the Midwest until its absorption into the Union Pacific system in 1995. Its tracks hauled not only commuters to and from Chicago, but through streamliners to all points in the West and grain, coal and hundreds of other commodities in its freights. The company recorded its major achievements and events in full color for posterity: all of which are presented in this 128-page book. Staged photographs taken by professional photographers make ... Read More

Southern Pacific Official Color Photography Volume 1 more books like this

by Anthony W. Thompson other copies of this book

Binding: Hardcover Publisher: Morning Sun Books Date published: 2000 ISBN-13: 9781582480046 ISBN: 1582480044

Description: New in new dust jacket. Southern Pacific began to take color photographs relatively early. This book contains a large series of images from both 1939 and 1941 when amateur color photography was scarcely possible. The road chose to depict new equipment, trains and services as well as to illustrate current operations for advertising or corporate use. This book then, should be seen as a cross-section not only of the Southern Pacific as it was, but also as the company wished it to be seen. ... Read More

Union Pacific Official Color Photography Book II more books like this

by Robert J. Yanosey And Lou Schmitz other copies of this book

Binding: Hardcover Publisher: Morning Sun Books Date published: 1999 ISBN-13: 9781582480053 ISBN: 1582480052

Description: New in new dust jacket. The Union Pacific Company is proud of its railroad and saw the color photograph as the best way to show the world the scope and efficiency of its operation as well as the beauty of its territory served in the American West. It was prolific in its advertising and generous in its distribution of the all-color calendars to on-line customers and stations. Likewise the calendars could be found far away and made the Armour yellow train of the Union Pacific familiar artwork ... Read More

Alco Official Color Photography more books like this

by Walter A. Appel other copies of this book

Edition: Unabridged Binding: Hardcover Publisher: Morning Sun Books Date published: 1998 ISBN-13: 9781582480060 ISBN: 1582480060

Description: New in new dust jacket. Fortunately the American Locomotive Company (ALCo) which controlled the second largest portion of the diesel locomotive market recorded the construction of its products with color photographs prior to delivery to their owners. This volume brings to life the diesel locomotives of the Schenectadybuilder. From the switchers of the early years to the modern Century series of the 1960s, most are between the covers of this book. Not every model and every customer is ... Read More

Union Pacific Trackside With Lou Schmitz more books like this

by Lou Schmitz other copies of this book

Edition: Illustrated Binding: Hardcover Publisher: Morning Sun Books Date published: 1998 ISBN-13: 9781582480077 ISBN: 1582480079

Description: New in new dust jacket. This book exhibits the steam to diesel transition on the Eastern District of the UP through more than 260 vivid color photographs. Former UP employee Lou Schmitz was there shooting everything from 4-8-8-4s to F3s to Centennials. Contents: The 1950s Nebraska Division, pp. 8-63; The 1950s Kansas Division, pp. 64-69; The 1950sWyoming Division, pp. 70-93; The 1960s Diesel Age, pp. 94-128. Lots of steam, turbines, exotic and first-generation diesels. Hardcover with jacket, ... Read More

Santa Fe-All the Way Volume 1 more books like this

by Bill Marvel other copies of this book

Binding: Hardcover Publisher: Morning Sun Books Date published: 1998 ISBN-13: 9781582480091 ISBN: 1582480095

Description: New in new dust jacket. Santa Fehad something not easily translated to the bottom line. It had style. No other road cultivated a regional identification as assiduously as Santa Fe. When its rails reached California in 1897, Santa Fewas the only railroad whose tracks stretched all the way back to Chicago. Thus a slogan was born: Santa Fe-all the way. Travel this famous road from the 1940s to 1966 in in this all-color book of vintage photography. Many pictures of clean new power, dirty steam and ... Read More

Southern Railway in Color Volume 2 more books like this

by Alton Lanier other copies of this book

Binding: Hardcover Publisher: Morning Sun Books Date published: 1999 ISBN-13: 9781582480145 ISBN: 1582480141

Description: New in new dust jacket. The Southern Railway system was a relatively unknown carrier until the 1960s when its management style and business objectives dramatically shifted course. One of the first major railroads to dieselize, it's quiet business methods were transformed into the benchmark railroad of the 1960s. The author, a former Southern employee, relates the story of this remarkable railroad through the medium of more that 200 vintage color photographs. This is a photo tour of the ... Read More

Lackawanna Railroad Trackside With Henry W. Peterson By Mike Del Vecchio more books like this

by Mike Del Vecchio other copies of this book

Binding: Hardcover Publisher: Morning Sun Books Date published: 1999 ISBN-13: 9781582480152 ISBN: 158248015X

Description: New in new dust jacket. In the 20th Century, the DL&W was a shining example of a well run railroad. Its image of Phoebe Snow to promote the cleanliness of hard coal and the dust free ride of the stone ballast is a significant part of early 20th Century America. Photographer Henry Peterson chronicled the steam locomotives of the Lackawanna on the eve of dieselization. His efforts are shown in this 128-page all color book. Contents: About Henry W. Peterson, pp. 3-8; Hoboken, pp. 9-19; Orange, pp ... Read More
---