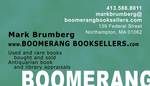 Boomerang Booksellers, ABAA
We buy and sell used & antiquarian books with a focus on modern first editions, children s illustrated books, Judaica, poetry, limited editions, Latin American literature, signed books, Massachusetts local history, & other fine books sure to delight you. We appraise & purchase books and entire libraries from individuals, estates, and organizations. We travel widely to bring you the best selection of books at reasonable prices so you can build a library to enjoy with your family and friends.
Mark Brumberg, principal of Boomerang Booksellers, is a seasoned independent bookseller. He owned & operated Schoolhouse Books, Inc. d/b/a The Globe Bookshop, a literary book store in downtown Northampton, MA from 1984 -1997. Following a stint at Storey Publishing in North Adams, MA in their sales and marketing department, he designed & managed the museum and on-line stores of the National Yiddish Book Center from 1999 - 2010. The mission of Boomerang Booksellers is to connect serious readers and collectors with the books they cherish and love. Our goal is to make it as easy as possible for you to create a library of your favorite titles or authors that you can share with your friends and family.
E-mail Boomerang Booksellers, ABAA
Overall Seller Rating:
Alibris seller since July 2011
---
Search for books from Boomerang Booksellers, ABAA » advanced search
Search 1,759 books from this seller
The Whiteness of Bones more books like this

by Moore, Susanna other copies of this book

Edition: 1st Edition Binding: Hardcover Publisher: Doubleday, New York, New York, U.S. A Date published: 1989 ISBN-13: 9780385266468 ISBN: 0385266464

Description: Fine in Fine jacket. Inscribed by Author(s) 8vo-over 7¾"-9¾" tall. Warmly inscribed by the author on the title page. A nice clean copy without any tears to the dust jacket, price intact, no rubbing or shelf wear. Pages are bright and clean. Binding is tight. Moore is a winner of the Pen/Ernest Hemingway Citation and The Sue Kaufman Prize from the American Academy and Institute of Arts and Letters. Read More

The Flight of Andy Burns: Stories more books like this

by Mattison, Alice other copies of this book

Edition: 1st Edition Binding: Hardcover Publisher: William Morrow & Co, New York, NY Date published: 1993 ISBN-13: 9780688111182 ISBN: 0688111181

Description: Fine in Fine jacket. Signed by Author(s) Signed by author on the full title page. A nice clean copy. No marks, not ex-lib, dust jacket has no tears, price is intact, boards are clean, text block and pages are bright. Read More

Lost Nation more books like this

by Lent, Jeffrey other copies of this book

Edition: 1st Edition Binding: Hardcover Publisher: Atlantic Monthly Pr, New York, New York, U.S. A Date published: 2002 ISBN-13: 9780871138439 ISBN: 0871138433

Description: Fine in Fine jacket. Signed by Author(s) 1st Printing. Signed by the author on the title page. A nice clean copy. DJ has no tears, price is intact. Cover boards and interior pages are clean. Binding is tight. Read More

The New Life more books like this

by Swist, Wally other copies of this book

Edition: 1st Edition Binding: Softcover Publisher: Plinth Books, W Hartford, Connecticut, U.S. A Date published: 1998 ISBN-13: 9781887628068 ISBN: 1887628061

Description: Fine. No Jacket. Inscribed by Author(s) A clean & tight copy, covers and interior pages are unmarked, binding is tight. Signed & inscribed by author on the title page. 77 pages. Read More

For the Dance more books like this

by Swist, Wally other copies of this book

Edition: Unabridged Binding: Softcover Publisher: Adastra Pr, Easthampton, Massachusetts, U.S. A Date published: 1991 ISBN-13: 9780938566519 ISBN: 0938566512

Description: Fine. No Jacket. Inscribed by Author(s) One of 276 copies designed, handset, printed, handsewn, and bound by Gary Metras at his Adastra Press in Easthampton. Inscribed and signed by the author on the title page. A nice clean copy with some minor foxing on the top edge of the text block, interior pages and covers are clean and bright, binding is tight. Read More

Beautiful Girls more books like this

by Bauman, Beth Ann other copies of this book

Binding: Hardcover Publisher: Macadam Cage Pub, San Francisco, California, U.S. A Date published: 2003 ISBN-13: 9781931561358 ISBN: 1931561354

Description: Fine in Fine jacket. Inscribed by Author(s) Warmly inscribed by the author on the front free end paper. DJ is clean and unmarked with no tears and price intact on flap. Cover boards, text block and interior pages are clean. Binding is tight. Read More

Strikeout Story more books like this

by Feller, Bob other copies of this book

Binding: Hardcover Publisher: Grosset & Dunlap, Publishers, New York, NY Date published: 1947

Description: Near Fine in Good jacket. Signed by Author(s) Index card with Bob Feller's signature is inserted onto front free end paper with photo corners holding it in place. This is the Grosset & Dunlap reprint of the A.S. Barnes first edition. Cover boards are clean with some tanning along edges. Dust jacket is torn at top and bottom of spine panel, at corners, and is missing a one inch piece at bottom edge of front panel. DJ is intact with some scuffing and soiling. Text block and interior pages are ... Read More

The Skeleton's Knee: a Joe Gunther Novel more books like this

by Mayor, Archer other copies of this book

Edition: 1st Edition Binding: Softcover Publisher: AMPress, Essex, Vermont Date published: 2007 ISBN-13: 9780979812231 ISBN: 0979812232

Description: Very Good. No Jacket. Signed by Author(s) 1st Printing. 8vo-over 7¾-9¾" tall. pp. 294. Signed by the author on the title page. This is the paperback reprint from the author's publishing company. With some shelf wear and an autographed sticker on the front cover. Interior is clean and unmarked. Binding is solid. Read More

Day By Day more books like this

by Lowell, Robert other copies of this book

Edition: 1st Edition Binding: Hardcover Publisher: Farrar, Straus and Giroux, New York, New York Date published: 1977

Description: Very Good in Very Good jacket. 1st Printing. 8vo-over 7¾-9¾" tall. pp. 138. First Edition, First Printing. Red cover boards are clean with little wear. Dust jacket is clean and bright with little shelf wear, no stains or tears, price intact on flap. Interior is clean and unmarked. Binding is square and solid. Read More

The Divine Husband more books like this

by Goldman, Francisco other copies of this book

Edition: 1st Edition Binding: Hardcover Publisher: Atlantic Monthly Press, New York, New York, U.S. A Date published: 2004 ISBN-13: 9780871139153 ISBN: 0871139154

Description: Near Fine in Near Fine jacket. Signed by Author(s) 1st Printing. 8vo-over 7¾-9¾" tall. pp. 465. Signed by the author on the title page. Cover boards are clean with little wear. Dust jacket has no stains or tears with little shelf wear. Interior is unmarked. Binding is solid. Read More

The Island of the Skog more books like this

by Kellogg, Steven other copies of this book

Binding: Softcover Publisher: Dial Press, New York Date published: 1973 ISBN-13: 9780803741225 ISBN: 0803741227

Description: Kellogg, Steven. Very Good. No Jacket. Inscribed by Author(s) 8vo-over 7¾-9¾" tall. Inscribed by the illustrator-author with a hand drawn illustration on the half title page. Covers are clean with light wear but no tears or stains. Interior is clean and unmarked. Binding is solid. Read More

Waiting for Teddy Williams more books like this

by Mosher, Howard Frank; Houghton Mifflin other copies of this book

Edition: 1st Edition Binding: Hardcover Publisher: Houghton Mifflin, Boston, Massachusetts Date published: 2004 ISBN-13: 9780618197224 ISBN: 0618197222

Description: Near Fine in Near Fine jacket. Inscribed by Author(s) 1st Printing. 8vo-over 7¾-9¾" tall. Inscribed by the author on the title page. Cover boards are clean. Dust jacket has no tears or stains, price intact on flap, in mylar sleeve. Interior is clean and unmarked. Binding is solid. Read More

The Flaming Corsage more books like this

by Kennedy, William other copies of this book

Edition: 1st Edition Binding: Hardcover Publisher: Viking Press, New York Date published: 1996 ISBN-13: 9780670858729 ISBN: 0670858722

Description: Near Fine in Near Fine jacket. Signed by Author(s) 1st Printing. Signed by the author on the title page. Cover boards are clean with little wear. Dust jacket has no tears or stains. Text block and interior are clean and unmarked. Binding is solid. Read More

An Execution in the Family: One Son's Journey more books like this

by Meeropol, Robert other copies of this book

Edition: 1st Edition Binding: Hardcover Publisher: St Martins Press, New York, NY Date published: 2003 ISBN-13: 9780312306366 ISBN: 0312306369

Description: Near Fine in Very Good jacket. Inscribed by Author(s) 2nd Printing. Binding is tight. Cover boards are clean. Dust jacket is slightly shelf worn with no tears or stains. Inscribed by the author on the title page, "Carry it Forward". Text block and interior pages are clean and bright. Read More

The Gambler more books like this

by Lenson, David other copies of this book

Edition: 1st Edition Binding: Softcover Publisher: Lynx House Press, Amherst, Massachusetts Date published: 1977

Description: Very Good. No Jacket. Inscribed by Author(s) Inscribed by the author to writer Andrew Salkey. Cover is sunned on spine panel. Interior pages are clean and bright. Binding is tight. Read More

The Treatment more books like this

by Menaker, Daniel other copies of this book

Edition: American edition Binding: Hardcover Publisher: Alfred a Knopf Inc, New York, NY Date published: 1998 ISBN-13: 9780679422068 ISBN: 0679422064

Description: Fine in Fine jacket. Inscribed by Author(s) Warmly inscribed by the author on the title page. DJ is clean with little shelf wear, no tears, price intact on flap. Binding is tight. Cover boards, text block and interior pages are bright and unmarked. Read More

Leaving Egypt more books like this

by Zeiger, Gene other copies of this book

Edition: 1st Edition Binding: Softcover Publisher: White Pine Press, Fredonia, New York Date published: 2002 ISBN-13: 9781877727504 ISBN: 1877727504

Description: Fine. No Jacket. Inscribed by Author(s) 1st Printing. Warmly inscribed by the author on the title page. 5 1/2 x 8 1/2. 80 pages-. No flaws-unmarked, tight and clean. Read More

Henry Purcell in Japan more books like this

by Salter, Mary Jo other copies of this book

Edition: 1st Edition Binding: Softcover Publisher: Alfred A Knopf Inc, New York, NY Date published: 1985 ISBN-13: 9780394727622 ISBN: 0394727622

Description: Near Fine. No Jacket. Signed by Author(s) Signed by the author on the half-title page. The Knopf Poetry Series #15. Tanned on spine, two minor smudges on free end paper, interior pages and covers are clean and unmarked, some foxing on top edge of text block. Binding is tight. Read More

Bewitched Playground more books like this

by Rivard, David other copies of this book

Edition: 1st Edition Binding: Softcover Publisher: Graywolf Pr, St Paul, Minnesota, U.S. A Date published: 2000 ISBN-13: 9781555973025 ISBN: 1555973027

Description: Fine. No Jacket. Inscribed by Author(s) Warmly inscribed by the author on the half-title page, flat signed on the title page. 62 pages. 9.00x6.00x0.25 inches. A clean, bright, and collectible copy. *** " A kind of "public dreaming" takes place via the music of these poems--a music as likely to visit the long-dead ghosts of the Kwakiutl tribe as Gianni Versace, and as interested in the baby seat of a car as it is in a boxing ring. Building on the critical success of David Rivard's two earlier, ... Read More

Defending Pornography: Free Speech, Sex, and the Fight for Women's Rights more books like this

by Strossen, Nadine other copies of this book

Edition: 1st Edition Binding: Hardcover Publisher: Scribner, New York Date published: 1995 ISBN-13: 9780684197494 ISBN: 0684197499

Description: Fine in As New jacket. Inscribed by Author(s) A nice clean collectible copy. Read More

by Phillips, Jayne Anne other copies of this book

Edition: 1st Edition Binding: Hardcover Publisher: Houghton Mifflin Harcourt, New York Date published: 1994 ISBN-13: 9780395488904 ISBN: 0395488907

Description: Fine in As New jacket. Signed by Author(s) A nice clean collectible copy. Read More

The Holder of the World more books like this

by Mukherjee, Bharati other copies of this book

Binding: Hardcover Publisher: Alfred a Knopf Inc, New York Date published: 1993 ISBN-13: 9780394588469 ISBN: 0394588460

Description: As New in As New jacket. Signed by Author(s) Read More

Uninvited more books like this

by Berman, James Gabriel other copies of this book

Edition: 1st Edition Binding: Hardcover Publisher: Warner Books Inc, Boston, Massachusetts, U.S. A Date published: 1995 ISBN-13: 9780446518611 ISBN: 0446518611

Description: As New in As New jacket. Inscribed by Author(s) A nice clean, collectible copy. Inscribed by the author. Read More

The Sound and the Story: Npr and the Art of Radio more books like this

by Looker, Thomas other copies of this book

Binding: Hardcover Publisher: Houghton Mifflin Harcourt, New York Date published: 1995 ISBN-13: 9780395674390 ISBN: 0395674395

Description: As New in As New jacket. Signed by Author(s) Signed by the author. A nice clean, collectible copy. Read More

Godchildren more books like this

by Martin, Charles Casey other copies of this book

Binding: Hardcover Publisher: Viking Pr, New York, New York, U.S. A Date published: 1990 ISBN-13: 9780670826636 ISBN: 0670826634

Description: As New in As New jacket. Inscribed by Author(s) Inscribed by the author on the half title page. A nice clean, collectible copy. Read More
---