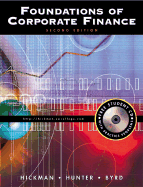 Foundations of Corporate Finance
Rental term: 130 days
Rental return due: August 29, 2014
How renting works
Base price: $141.99
About this copy:
Available quantity: 5
Binding: Hardcover
Edition: 2nd Ed ed.
Publisher: South Western Educational Publishing, Cincinnati, OH
Date published: 2001
ISBN-13: 9780324016390
ISBN: 0324016395
Language: English
Alibris ID: 12079971531
Description: Good. Sewn binding. Cloth over boards. 576 p. Contains: Illustrations.
Other copies of this title
Change currency
List price: $225.95
You save: $197.56 (87%)
Worry-Free Guarantee
Drop a class? Change your mind? Within 24 days of your rental date, you can return rented books for a refund. See, no worries!
Reviews of Foundations of Corporate Finance
Be the first to
write a review
Love it or loathe it?