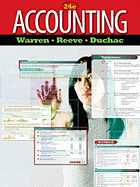 Rental term: 130 days
Rental return due: November 20, 2014
How renting works
Base price: $39.66
About this copy:
Available quantity: 2
Seller information:
TEXTSHUB, Franklin Lakes, NJ, USA
Binding: Hardcover
Edition: 24th ed.
Publisher: Cengage Learning
Date published: 2011
ISBN-13: 9780538475006
ISBN: 0538475005
Language: English
Alibris ID: 11898205401
Description: Good. 0538475005 US Hardcover, Ships with Emailed Tracking SHIPS FROM USA-INTERNATIONAL SHIPPING IS AVAILABLE.
Other copies of this title
Change currency
List price: $321.95
You save: $284.81 (88%)
Worry-Free Guarantee
Drop a class? Change your mind? Within 24 days of your rental date, you can return rented books for a refund. See, no worries!