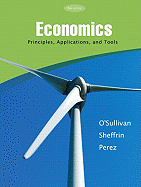 Economics: Principles, Applications and Tools (6th Edition)
Rental term: 130 days
Rental return due: July 23, 2014
How renting works
Base price: $54.84
Binding: Hardcover
Edition: 6th ed.
Publisher: Prentice Hall
Date published: 2009
ISBN-13: 9780136076445
ISBN: 0136076440
Language: English
Alibris ID: 11506423204
Description: Good. 0136076440 Some wear to cover. Text is in great shape. ISBN|0136076440 Economics: Principles, Applications and Tools (6th Edition) (C. )2010 (JW) WQ.
Other copies of this title
Change currency
List price: $209.10
You save: $166.45 (80%)
Worry-Free Guarantee
Drop a class? Change your mind? Within 24 days of your rental date, you can return rented books for a refund. See, no worries!
Reviews of Economics: Principles, Applications, and Tools
Be the first to
write a review
Love it or loathe it?