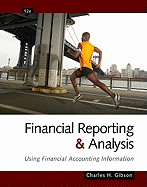 Financial Reporting and Analysis: Using Financial Accounting Information
Rental term: 130 days
Rental return due: November 20, 2014
How renting works
Base price: $229.95
About this copy:
Available quantity: 5
Binding: Hardcover
Edition: 12th Revised ed.
Publisher: Cengage Learning
Date published: 2010
ISBN-13: 9781439080603
ISBN: 1439080607
Language: English
Alibris ID: 10353210801
Description: 100% BRAND NEW US HARDCOVER STUDENT 12th Edition / ISBN-10: 1439080607 / Mint condition / Never been read / Shipped out in one business day with free tracking.
Other copies of this title
Change currency
List price: $330.95
You save: $139.99 (42%)
Worry-Free Guarantee
Drop a class? Change your mind? Within 24 days of your rental date, you can return rented books for a refund. See, no worries!